Supercharging your firm's capacity will require you to accomplish a number of key strategies. One of the most crucial is getting the right people on the right tasks in the right place. The idea here is simple, grow a global team.
Working with The Outsourced Accountant allows you to set up and grow your dedicated global team, spend more time on the tasks you enjoy, be proactive with customers –all to growing your business.
Winning the war for talent goes beyond finding highly talented people; you need to ensure that you're putting your team in the right roles because having even the most talented individual work on the wrong things will not yield the positive results you need.
One of the things we do well here is managing the recruitment process to connect firms with the right talent. Our recruitment process allows us to find the most suitable specialist talent.
The calibre of professionals we have here at The Outsourced Accountant is exactly what you need to boost the capacity of your firm.

You can specify any number of dedicated roles you need to support your local team. Many firms start off a small team of two to three team members, spread across a number of roles covering core services and support to help grow the business:
Specialist Accounting & Finance Staff
Accountant
Senior Accountant
CPA
Bookkeeper
Financial Planning Assistant
Loans Processor
Tax Accountant
SMSF Accountant
Paraplanner
Support Staff
Virtual / Personal assistant
Executive assistant
Digital marketer
Senior event coordinator
Web developer
Sales support
Administration assistant
CRM specialist
Social media specialist
Hear from a number of team members on the work they do, the experience they bring to a business and the impact the work has on them.
Senior Accountant, CPA, 10 Year Experience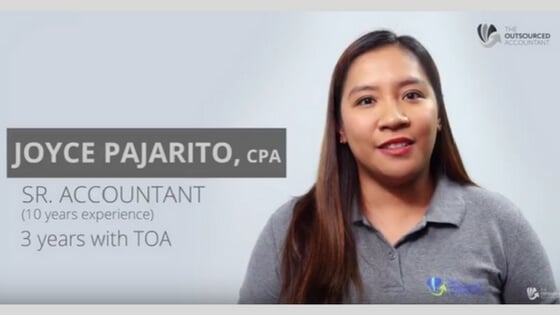 "I am a proud accountant and I can account for my role."

Experience matters a lot especially in an industry like this. That is why we value team members who have put in the hours and effort in their respective careers. Joyce, our senior accountant, has an accumulated 10 years of experience and with her one-year stay here at The Outsourced Accountant, she has already displayed high competency and impressive work.
Her client has saved a tremendous amount of time thanks to her efforts in taking on process-driven tasks. This allowed her clients redirect their focus and energy on the things that will actually add more value to their clients, which includes being more client-facing and establishing better relationships.
Joyce helps her client by doing the following tasks:
Prepares assets, liabilities, revenue and expenses
Balances the books
Prepares financial status summaries
Takes care of payroll processing
Performs external audit
Ensures all resources are used efficiently
Certified Public Accountant
"I love my job because more than the professional experience I acquire through serving my clients, I have experienced a sense of fulfillment knowing I contribute to my client's success and my efforts are recognised."

The job of an accountant is not easy. Ensuring the accuracy of all financial records, among other things, requires a certain level of expertise, strategy, and great attention to detail. And since they all play a crucial role in any business, it's vital that you find the best talent for your firm.
John has been with The Outsourced Accountant for one and a half years and it's been an amazing experience so far. He has found fulfillment in the fact that he is part of the growth of his clients and that his skills are properly utilised.
John's tasks include the following:
Prepares financial reports
Performs financial accounting
Regular meetings with clients
Addresses issues, concerns, and needs of clients
Ensures all deliverables are met
Manages firm workflow
Audits SMSF accounts
Virtual Assistant
"I am here to free up your time so you can focus more on your business."
Nothing is more important than being able to utilise your time well. As a non-renewable source, time plays a critical role in the success of any business. Unfortunately, many businesses suffer from the misuse of time because of distractions and time-consuming tasks like responding to tons of email and phone calls.
Outsourcing provides the solution for this problem. Virtual assistants can take care of all these tasks, leaving you with more time to focus on the business.
Hiring virtual assistants will be highly beneficial to your firm. Merry, an offshore virtual assistant here at The Outsourced Accountant, makes the lives of her client so easy every single day. Through her dedication, attention to detail, and hard work, her client now has more time to take care of other aspects of the business, like meeting with clients and fostering relationships that can lead to more revenue.
Merry performs a wide variety of tasks which include:
Managing emails and calendars
Setting up meetings and taking minutes
Providing guest support
Making travel arrangements
Preparing presentations and reports
Managing websites
Managing social media accounts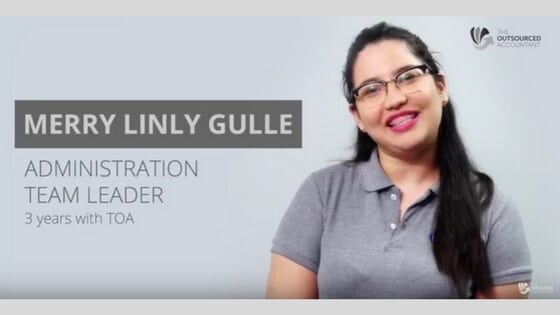 Social Media Specialist
"What I love about my job is I can help the company grow their presence online, connect with their clients, and possibly get in touch with potential clients."
Jill is a media and communication specialist who has a strong background in the offshoring industry. Her creative streak and penchant for anything relevant, informative, and viral have made her effective in bringing the company's social media pages alive.
Through her impressive artworks and compelling one-liners, Jill has been able to keep The Outsourced Accountant's various social media accounts updated, insightful, and engaged. And she does so with an infectious eagerness that translates to all the posts she publishes which translates to our intended audience well.
In this digital age where everyone lives and breathes social media, we can help your firm get your message out to the right people to further grow your business.
A typical day for our social media specialist includes:
Creating a content strategy
Putting together creative imagery
Answering queries on different social media platforms
Monitor social media for industry updates and what's trending
Sales Support Team Leader
"It makes me feel important and part of the success whenever a relationship manager closes a seat."
Working in sales is not a walk in the park. But it can appear that way if you're like our bubbly and cheerful Sales Support Team Leader, Gypsy.
As one of the long-time team members of The Outsourced Accountant, Gypsy makes sure that the day-to-day sales operations function like a well-oiled machine. Her strong organisational skills have made it possible to juggle many tasks without compromising the quality of her output.
Gypsy plays an integral role in the grand scheme of things here at The Outsourced Accountant. Her tasks include:
Her tasks include:
Taking care of the calendars of sales teams
Handling client notifications
Managing reports
Updating sales reports
Coordinating with team members and other key people to ensure everything goes well
Works with other departments to secure quality client bookings
If you want to jump-start your success, outsource now. Your firm will greatly benefit from having a dedicated offshore team like the one we have at The Outsourced Accountant. We will help match your requirements to the right people so you can finally use your time on the stuff that matters and grow your business.
Get access to a different skill set that is not available locally and tap into the expertise of highly dependable and talented professionals here in the Philippines. Outsourcing in the Philippines will be advantageous for your company because our talents here have:
Outstanding performance
Great language skills
Impressive work ethics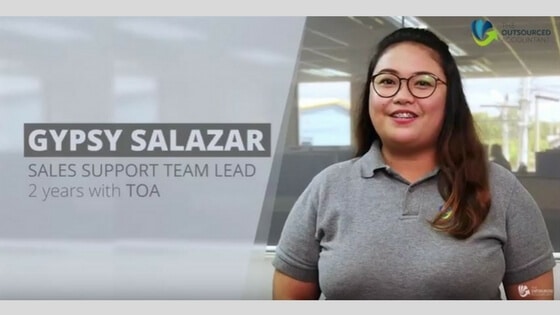 Listen to one of our clients, Ashfords Accountants, talk about his experience working with The Outsourced Accountant and his dedicated offshore team:
By choosing to outsource, Ashford Accountants were able to successfully offer additional services to their clients in just 18 months.
Watch what our other clients have to say about outsourcing to the Philippines in our client testimonials page.
Setting up an offshore team can supercharge your firm's productivity and propel its growth. By tapping into the expertise, skills, and experience of equally talented professionals in the Philippines, you will free up more time for developing and implementing strategy.
This should help you become more client-facing and establish relationships that will bolster your growth. Outsourcing your accounting tasks will help you become the firm of the future.
---
Looking to scale your business by getting the right people to do specific roles? Call our global offshoring specialists at 1300 896 522.
---
Find out more
Book a call at a time that suits you