In one of our previous polls, we've found that more than 90% of accounting firms are either already outsourcing work, have decided to do it or are currently looking for information about it.
Over the past years, offshoring has become a real and viable option for accounting firms. Building global accounting teams has become a priority for companies most commonly because they want to improve firm performance while saving costs. Outsourcing specific tasks will enable firms to add more value to clients.
There are three questions that, when asked, can help firms get the most out of their offshoring journey.
How Do You Streamline Service And Make It More Efficient?
Technology is starting to come into play. It has been a huge enabler for offshoring for obvious reasons. There is a vast array of tech solutions that support accounting practices. These tools can automate tasks which improves productivity, allowing accountants to get more done in less time.
Accounting firms need to maximise the technology available at their disposal. A few examples include:
Xero
Quickbooks
MYOB
Receipt Bank
Practice Ignition
Hubdoc
Spotlight Reporting
Google Hangout
Skype
Slack
Freshbooks
Trello
Basecamp
How do you make the most of technology? Watch here.

Utilising these tools can help automate certain tasks that used to take up too much of your time. What's good about these tools is, aside from saving you time, you can be confident that there is very little, if none, room for errors. You will be able to interpret and analyse data in less time and be confident that the data you're presenting to clients is accurate.
Streamlining your process will have a huge impact on efficiency. To be successful, one must first understand how work currently flows and then evaluate different ways to speed up the process. Are there tools that can help you process documents quickly? Is there a way to gather and collate data in one place so you can prepare journals easily?
Check out our most recent webinar on essential technology to optimise your firm here.
Because the accounting industry is rapidly changing, accounting firms need to find more convenient ways to get as much tasks accomplished as quickly as possible so they can focus more on client-facing tasks.
Can We Deliver More To Our Clients For Less?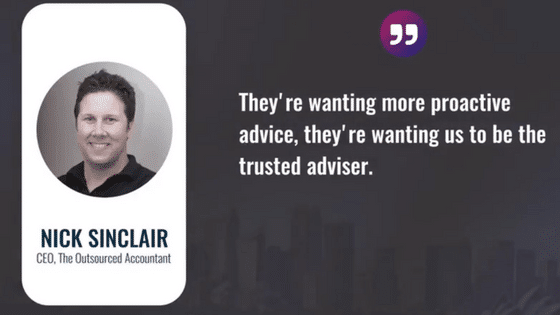 A cohesive client experience must be a top priority for firms. That means ensuring clients are satisfied will play an important role in retaining business. A good mindset to acquire is to always keep the client's interest in mind.

Go the extra mile and offer something more than mediocrity. Consider the following:
Use every interaction to build trust. Establishing trust will make your client loyal, which can lead to even more referrals of business in the future. Make sure that you build trust from the very beginning.
Communicate regularly. Reach out to clients and get to know them. Delivering value to clients means providing a personalised experience. You cannot do that if you don't know them on some personal level. By getting to know them better, you'll be able to help them understand why they need your service.
Use innovative ways to provide service. Technology has done a lot to improve processes and workflow for accountants. This allows accounting firms to figure out innovative ways to provide business solutions to clients.
Help your clients learn something new about their business. It never hurts to continue learning. Accounting is more than crunching numbers and preparing financial reports. Clients need to understand what these numbers mean and how these can help them improve their business. Add more value by teaching them new stuff.
How Do You Market Business To Attract More Clients?
Marketing will help you win more clients. The changing landscape, however, might pose a challenge to acquiring new clients. Because technology has allowed certain accountants to become more efficient and effective in providing quality services, clients will have a change in mindset when it comes to working with accountants.
If you're not delivering the same kind of service as the other accountant, what's stopping your client from leaving and hiring the other accountant?
To find new clients, do the following:
Identify and get to know your target clients
Network and connect with other qualified and trusted professionals
Ask for referrals
Make sure your website is updated
Establish your expertise in the backyard
Learn how one of our clients, Mark Said of the MKS Group, was able to improve the service they provide to their clients.
Conclusion
To put it simply, the secret to building capacity boils down to one thing: providing clients with high-value services. By putting the client's interest in mind whenever you accomplish a task, you can guarantee that the result would be favourable simply because you're motivated by the idea of meeting (and exceeding) client expectations.
---
If you are an accountant, bookkeeper or finance firm looking for solutions to capacity restraints, call our offshoring specialists at 1300 896 522.
---
Find out more
Book a call at a time that suits you