Looking for a guide to help you build a global accounting team and fast track growth? We have designed a guide to take you by the hand as you start your journey to offshoring.
---
Part 1: What is The Outsourced Accountant?
Part 2: Search and selection
Part 3: Candidate interview
Part 4: Communication and business rhythm
Part 5: Onboarding
---
Who is The Outsourced Accountant?
The Outsourced Accountant is the leading provider of dedicated outsourcing to accountants. Committed to revolutionising global accounting firms, we have systems and processes that are designed to make your firm more efficient and structured so you can add more value to your clients.
What's in it for you?
To become a global workforce and stay competitive amidst the changing landscape, we have resources to increase your capacity and eventually grow your business.
Our intimate knowledge of the accounting industry will be significant in improving your processes. Furthermore, our CEO, Nick Sinclair, has 10 years experience as a financial planning operator.
We are dedicated to making this partnership work.
Are you ready to get started on this journey?
Search and selection
Recruiting in the Philippines
Globalisation has paved the way for firms to harness the skills and expertise of professionals from other parts of the world for a fraction of the cost. The Philippines is one of the highly established locations for accounting offshoring.
It is an ideal location for building your global accounting firm for the following reasons:
Filipinos have a very high English proficiency (ranked highest in 2013 Business English Index)
Strong affinity with the western culture
Little time zone difference
Filipinos displaya very strong work ethic
Annually produces 3,000 Certified Public Accountants (CPAs)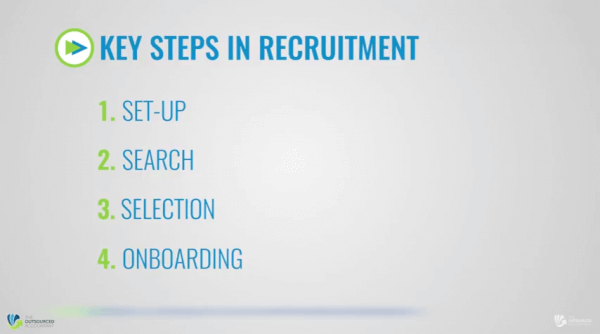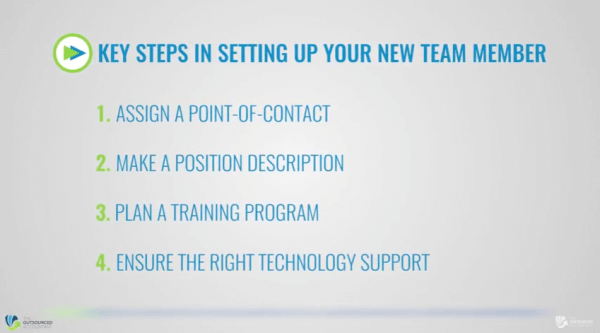 The competition for talent is very high. It is a hot talent market and you need to move really quickly if you're going to find the right people for your team. Here in the Philippines, there the graduates have great potential and they are highly trainable, which means even if they don't have that much experience yet, you can easily get them up to speed if you invest time in them.
Here are some key tips you need to be aware of when it comes to recruiting talent:
We'll get you involved in the kickstart meeting where we'll discuss specifics on the role, requirements, etc. Based on these details, our Talent team will commence the search for the most suitable candidates for the position. As a client, you will be heavily involved in the selection, interviews, and deliberation.
Difference between onshore and offshore recruitment
There's not much difference between offshore and onshore recruitment, which is why you need to be mindful of the pace in which you go through with the process. Take note that the war for talent in the Philippines is very hot and unless you move quickly, securing good candidates will be challenging.
While we have an onboarding process here in the Philippines, we highly recommend that you invite your new hire over to your place of business to help get them up to speed. The opportunity to work alongside you and other members of the team should be helpful in the seamless transition.
These four steps are essential in transitioning your new hire to become a valued member of your team:

Choose a project lead to serve as your regular point of contact. It is important that you discuss the position description (outcome profile). We will give you an outcome profile document to fill out.
Next, clearly articulate the milestones for your new hire. Document skills and training requirements as early as possible and make sure that you have the essential technology and communication flows are available for the new team member.
Top tips for hiring:
Move quickly
Prepare well
Set aside time
Keep an open mind
Set up a proper onboarding process
The interview process
The interview process plays an important role in selecting the right person for the role so take note of the following key steps:
Review our 3 endorsed candidates
Request to arrange for interviews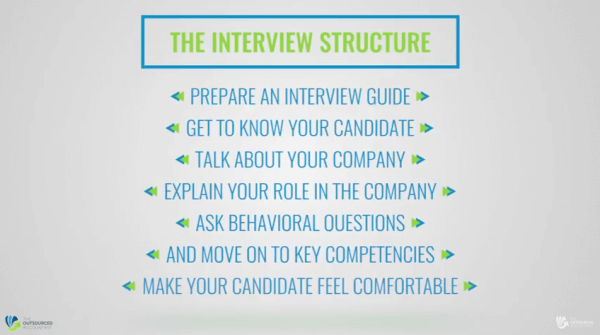 The best approach to interviewing candidates is to ask the right questions. Probing questions will help you determine if the candidate has the right skills and experience required for the role.
Ask for specific examples that will showcase their capabilities and aptitude to better assess their suitability for the role. It is important to remember that if the applicant doesn't tick all the boxes, see if they tick most because our candidates are highly trainable and can quickly learn if you invest time.
The interview structure
When conducting the interview, make sure to have a guide prepared. Start by putting the candidate at ease. Get them to talk about themselves and don't forget to tell them a little about yourself. More importantly, talk about the company and explain the role. Then move into the more behavioural questions.
Remember that Filipinos can be a little shy so be mindful and try to make them feel comfortable.
How to avoid hiring mistakes
Committing hiring mistakes can be detrimental to your business. One wrong decision and your team can suffer consequences that are damaging to the firm. Meticulous preparation will help you avoid that. Make sure that you:
Go through the process thoroughly
Map out competencies
Target your questions on capabilities
Who should be involved in the interview?
When it comes to selecting the right person for the role, it pays to have as few people involved as possible as to not dilute the decision-making process and to avoid overwhelming the candidate. Select 2-3 key stakeholders.
Top tips for interviewing candidates:
Move through the process in a timely manner
Prepare well
Articulate the role very clearly
Carefully choose key stakeholders
Respond to the candidate as soon as possible
Note: We have designed an interview guide to help you prepare for the interview. Use this to ensure the process goes smoothly.
Communication and business rhythms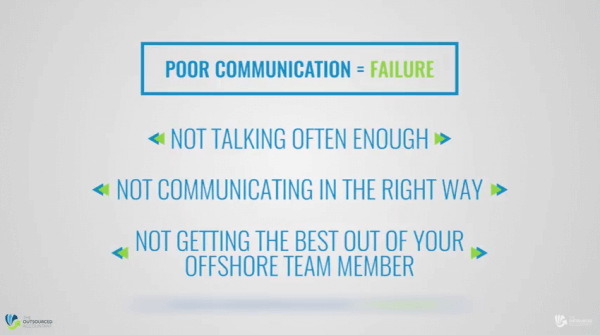 Managing your offshore team effectively requires establishing meeting and communication strategies. Our clients that have adapted these rhythms have been experiencing amazing results. It is vital that both your online and offshore teams implement strategies to ensure effective communication across both locations.
Success and failure stem from the quality of your communication
The ultimate consequence of having poor communication within the team is failure. Clients that don't talk to their teams often enough or communicate with them in the right way will not get the most out of their global accounting team.
Poor communication can result in the following:
Unmet expectations
Mixed messages
Unresponsive staff
High stress levels
Confusion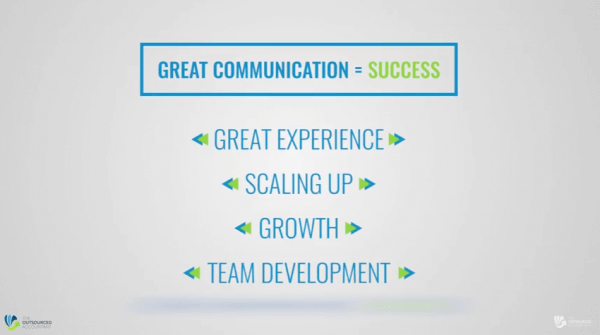 On the other hand, taking the time to communicate well with the team opens opportunities for growth.
This sets clear expectations for tasks and prevents sending mixed signals that can lead to confusion. More importantly, it engages the staff. Team members will be able to address any concern and prevent conflicts that can escalate to stressful scenarios.
Top tips for communicating with your team:
Structured meetings
Weekly rhythms
Daily huddles
Start the day right
Get the team going
Get positive outcomes
Drive your expectations
If you're struggling with creating communication rhythms, consider doing the following:
Talk to your team. Regular communication via daily huddles and weekly meetings present the opportunity to address any concern to prevent problems.
Ask them to reiterate any question. In one of his talks, Nick talked about how Filipinos can be shy to the point that they'll confirm understanding something even when there are still items that need clarification. By reiterating questions, you'll encourage them to speak up and, more importantly, ensure that all instructions are properly explained.
Ask them to verbalise their understanding. Doing so ensures everyone is on the same page because by verbalising their understanding of instructions, you can identify who needs clarification and which items are unclear to some team members.
The best approach to good internal communication
Specific meeting rhythms are essential to good internal communication. You are able to set outcomes of the day and reiterate your messaging clearly when you follow a structure.
Choose an online platform. Use Skype, GoTo Meeting or Zoom. It's vital to use an online platform so your team can see you and have an actual conversation.
Conduct morning huddles. Meeting with your team at the start of the day will help establish the day's goals, discuss yesterday's highlights, and identify problem areas (or stucks) that need your attention. Huddles can be extremely helpful in ensuring no tasks are overlooked.
Do weekly wrap ups to tie up loose ends and ensure that the workflow is on track.
It's very important that you plan a visit to the Philippines. Spend time with your offshore team to get to know them. Similarly, have them fly out to your local office to get a feel of your culture. Ingrain them in your culture and make them part of the community.
Humanising your relationship with the offshore team will lead to amazing results. That's because your team will be more engaged and motivated to perform their best.
Takeaways:
An establishing communication rhythm will make you more efficient
More people can get the right tasks done at the right time when you implement a structured communication flow
Managing workflows can give you the best productivity
Conduct daily huddles, weekly, 1-on-1, monthly and quarterly meetings
Invest in your offshore team through business immersion, travel, and on-going training
Onboarding
Integrating your new team member happens at this stage so you need to get your onboarding process right. Onboarding remotely is no different from onboarding your local team.
Invest in your team: Get to know your offshore team. Treat them the same way you would your local team. Filipinos can show high engagement if you take the time to get to know them.
Communicate clearly: Be clear and direct when it comes to your expectations. If needed, have them repeat what you've just said to verify their comprehension.
On-going training: Plot a training schedule. Immerse them in the business by either flying over to the Philippines and sending the team member to your location. Working alongside each other can improve your overall working relationship.
We have an entire department dedicated to making sure your onboarding is as seamless as possible. Our Client Experience Team will make sure that:
You have a great experience
Expectations are met
Issues are addressed
Top tips for onboarding:
Invest in your team
Get to know them and forge a relationship
Create an onboarding and training plan
Articulate your workflow well
Don't forget to have fun
---
The Outsourced Accountant helps accounting firms from all over the world grow their capacity, margins and profits through global outsourcing. Contact us to find out more about how we can help your firm.