Going all in on what a vast majority of accounting firms are apprehensive of doing has allowed Ryan Addinsall of LPR Advisory to scale and grow their business. Offshoring accounting has produced a positive effect on profitability.
How did he do it? It all comes down to systemization. Ensuring that they have the right systems and processes in place has made their offshoring effort an undeniable success. Let us break down how Ryan and his team did it.
Purveyance Of Thoughts
Communication is key when managing an offshore team. The constant thought exchanges between Ryan and his team are extremely valuable because it allowed him to:
Ensure clarity across all aspects of the workflow processes
Create a comfortable and open work environment
Build strong relationships with all team members
Solve problems and address issues much quicker
Increase accountability among team members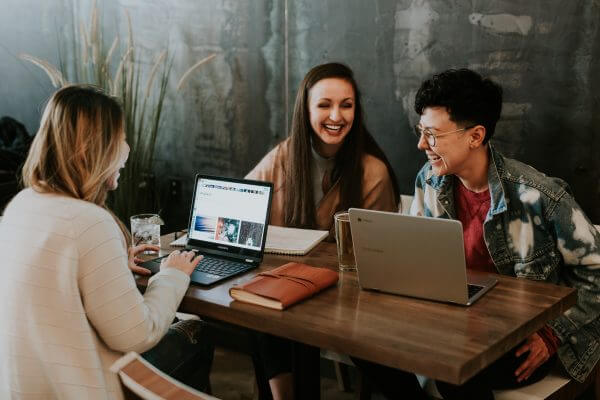 By systemizing communications, LPR Advisory now enjoys a great working environment where everyone is happy, positive, and motivated. They also have a well-defined schedule of daily, weekly and monthly meetings as well as a specific time set for Ryan to go see his team in the Philippines. By implementing these communication rhythms, Ryan was able to develop and nurture an awesome connection with his team.
Technology has also helped Ryan communicate with his team efficiently. Besides emails and Skype, Ryan uses his iPhone to answers his landline and record conversations to share with the team later for on-the-go communication.
While many accounting firm owners think that communication can be an issue, Ryan's offshoring journey shows that it's all just a matter of implementing effective scheduling while using communications channels that suit their needs. It's all about communications rhythms.
Learn more about the importance of and effective ways to establish communication rhythms in the following articles:
Role of Effective Communication Rhythms In Managing A Successful Offshore Team
<Grow Your Accounting Firm: Effective Communication At Work
3 Simple Yet Effective Ways To Improve Communication In The Workplace
Perspectives Do Converge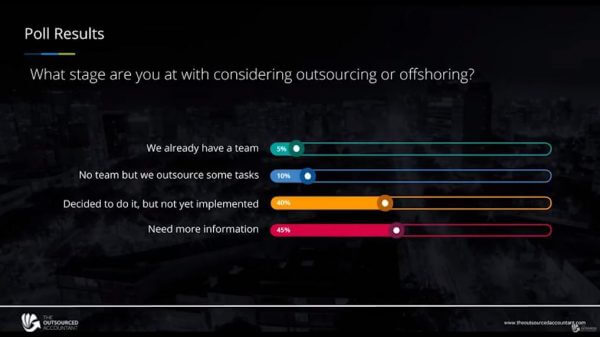 Ryan relies on his offshore team to crunch numbers and keep the cogs of his firm moving so he can be out there meeting and serving clients and providing them high-end value-added work to keep their business in the best position.
He recognises how having a team that is a little over 3,500 miles away has impacted his business in such a positive way. Since he hired his offshore team, he has had no issues with language, culture, and technology. This has been eye-opening for Ryan and made him think of other out-of-the-box solutions he could find to face other business challenges.
More often than not, accounting firms hesitate to even think of building an offshore team because of fear. In a previous poll we conducted, we discovered what businesses feel about offshoring:
Only 5% of firms already have an offshore team setup
40% have decided to offshore but still haven't implemented the steps
45% still need to learn more about offshoring
10% are already outsourcing some tasks but still don't have any team setup
Perceptions Will Offset
Ryan did his research prior to building his offshore team. As with any business considering the prospect of offshoring or outsourcing, he came across the usual suspects of what he has found now to be wrong perceptions or misconceptions:
Security Issues
Ryan feels that LPR Advisory has a far more secure practice and procedure than most local firms. By being completely cloud-based and using Practice Protect and other internet security software, they can track all access and usage of all their apps. Teams do not know each other's passwords to apps, access is restricted to certain IP addresses, and access can be revoked instantly. In addition, The Outsourced Accountant, where Ryan's offshore team works, enforces strict physical security protocols as well as a highly effective cybersecurity strategy.
Cheap Labor
Ryan knows that in the long run, when done properly, the cost per team member will be lower than what he would spend locally but by a factor of not 10 but 2. He has also realized that when a business goes into offshoring for cheap labor then that is taking the wrong approach. Ryan has found offshoring as a great solution to his frustrations with issues around local staffing, to his goal of being able to grow the capacity of the team quickly, and to his wanting to have a large pool of willing candidates for future growth.
Skills Limitations and The 'Them and Us' Mentality
Visiting his team has proved beneficial for Ryan because he was able to establish similarities in skills, language, and culture. He witnessed first-hand how productive and efficient his team was. Interestingly, Ryan has built closer personal relationships with his offshore team than the other local teams he has been a part of in the past.
These wrong perceptions often get in the way of a successful offshoring experience. As you can see from Ryan's experience, once the right systems are put into place, it takes little to no time to see a dramatic difference in the way an accounting firm can run itself and, in the long run, scale and grow.

Experiences like Ryan's and his team at LPR Advisory can be priceless to those of you looking at building an offshore team.

---
The Outsourced Accountant helps accounting firms from all over the world grow their capacity, margins and profits through global outsourcing. Contact us to find out more about how we can help your firm.