Online accounting courses make it possible for accountants to stay relevant and adapt to emerging trends and technological advances.

The future of the accounting industry is in a state of flux, with new tools and changing business models. Yet accountants who stay driven to develop new skills can keep up.
"The initial education and certification of an accountant is no longer going to be sufficient to guarantee career-long employment," wrote Andrew Hunter, who served as CPA Australia's chief executive officer from April 2018 to April 2024.
As accounting and finance professionals, you will need to update your skills regularly. "Business skills and acumen (including essential soft skills) and the application of knowledge in context are becoming increasingly more important than technical skills alone."

In the past, accountants focused primarily on bookkeeping and being responsible for financial statements.

Now, the profession increasingly involves advisory services, financial planning, and risk management, with clients needing guidance every time the rules or accounting tools change.
Transforming the accounting industry
Some of the ways in which emerging trends are transforming the accounting industry include:

Automation and AI: Automation and artificial intelligence are enabling accountants to automate routine tasks, reduce errors and free up time to focus on higher-value work, such as advising clients.

Cloud Computing: Cloud computing is making it easier for accountants to access their clients' financial data from anywhere in the world. Cloud-based accounting software also reduces the need for manual data entry and makes financial reporting more accurate.

Blockchain technology: Blockchain technology is transforming the way accounting professionals conduct audits. Because it is decentralized and unchangeable, blockchain technology may remove the need to reconcile transaction records, such as transfers of ownership. Accounting and auditing professionals must understand these emerging technologies and develop the skills to leverage them.

Data Analytics: Data analytics enables accountants to analyse large amounts of financial data quickly and accurately. This helps them identify patterns and trends that might otherwise be missed, enabling them to provide more informed financial advice to their clients.

Cybersecurity: The rise of cybercrime has made cybersecurity a top priority for accounting firms. Cybersecurity measures such as encryption, multi-factor authentication, and regular backups are essential for protecting client data.

Remote Work: Remote work enables accountants to work from anywhere in the world, reducing the need for physical workspaces and enabling firms to attract talent from a wider area.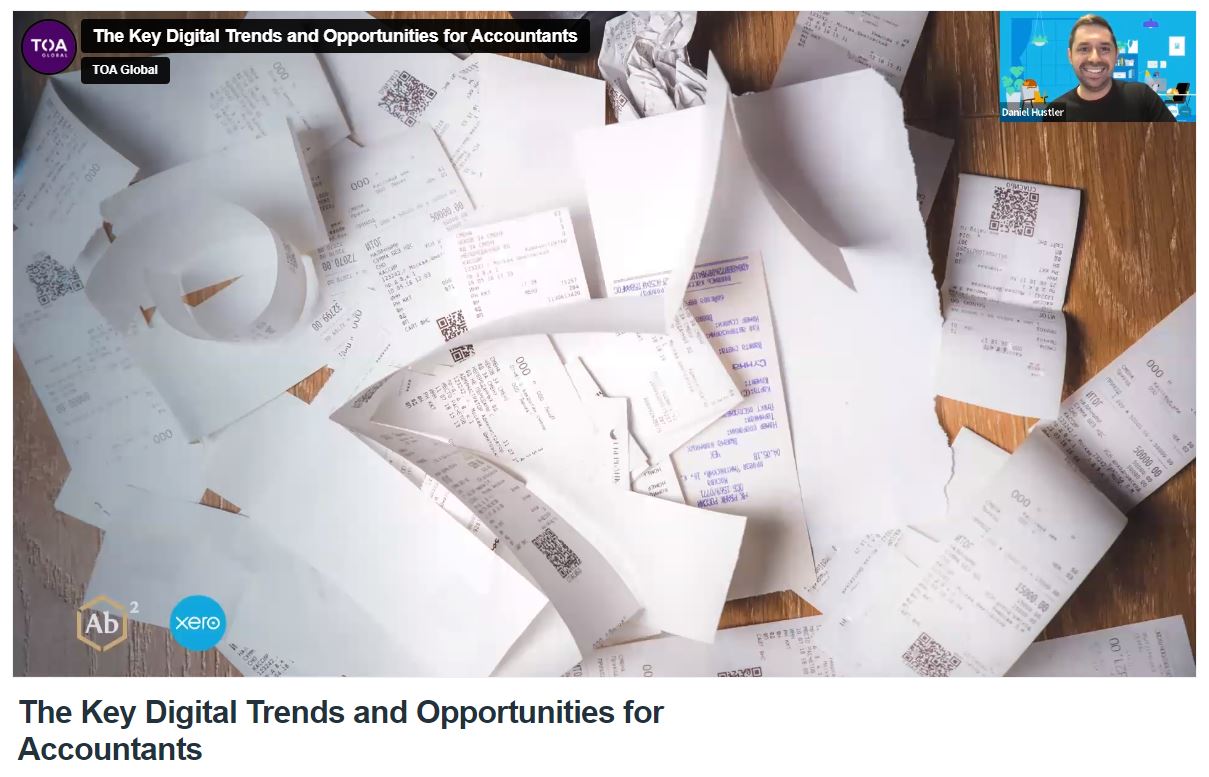 Do your clients still bring you big bags of crumpled or fading paper receipts to process and input manually? Daniel Hustler, Education Manager for Xero Asia, talked about how cloud accounting apps and scanners have made this a thing of the past, at a webinar co-presented by TOA Global and Ab² Institute of Accounting.
Reshaping accountants' skills
"Put very simply, AI refers to systems that can complete tasks that would normally require human intelligence," said Daniel Hunter, Education Manager for Xero Asia, in a webinar presented by Ab² Institute of Accounting and TOA Global.
"Many clients still manually print bank statements and compare these to invoices stored in different folders on their computer. But cloud-based systems can simply automate that process…My advice here to accountants would be to avoid getting caught at the tail end of the technology adoption curve. If you're only using desktop software for now, at least look at some of the options that are available to you."
Because technology is driving the need for continuous learning, professionals must stay up to speed on the latest software developments and tools. This requires an openness to experiential learning, collaboration, and focus on real-world problem-solving.
Ab² and TOA Global Founder Nick Sinclair pointed out that when his accounting firm in Australia began to use cloud-based accounting, the business saved about 30% of the time they were spending on transactional work.
"But the accountants were busier!" Nick recalled. "A lot of the roles in accounting will change into being able to tell stories with data, for example. You're no longer going to have to do data entry or reconcile, but you have to be able to explain what all that financial data means, in terms business owners can understand. As this technology improves, accountants will do more meaningful work."
'Soft skills' in the modern accounting firm
In addition to technical skills, accounting professionals must also develop soft skills to remain relevant in the industry.
As the accounting profession becomes more collaborative and client-focused, accountants will need to:
Communicate more effectively with clients, understand their evolving needs, and provide tailored solutions.
Collaborate with staff across different departments and locations to deliver high-quality services.
Cultivate the mental fitness that makes it easier for you to adapt to new ways of working and solve workplace challenges.
Accounting professionals must develop a balance of technical and soft skills to remain relevant, capable of analysing complex data and communicating insights with influence.
Continuous learning and online accounting courses
Continuing Professional Development (CPD) is crucial for accounting professionals. A number of CPD hours are required to keep your certifications current—a CPA Australia member, for example, will need to complete 120 hours of CPD every three years.

More than that, though, the CPD requirement encourages professionals to enhance their knowledge and skills. This helps them keep up with the latest industry trends, technologies, and best practices, and develop new skills that are growing in demand.
CPD can take many forms, including attending seminars, workshops, and conferences, taking online accounting courses, or pursuing certifications.
Institutions that offer online courses, such as Ab² Institute of Accounting, offer a wide range of courses and certifications that professionals can pursue, covering subjects such as financial management, accounting software, and tax preparation.
Online learning offers a flexible and convenient way of learning, and professionals can complete courses at their own pace.
Offering the ability to access learning materials from anywhere, online learning is especially beneficial for busy professionals who need learning options that fit their lifestyles.
Adapting to change is the key to staying relevant
As accounting professionals, you can adapt and stay relevant in a changing industry for as long as you remain curious and give yourself time for learning.

Accountants who choose to do this will equip themselves to offer a higher level of service to their clients, grow their earning potential, and enjoy a more rewarding career. Designed for different stages of your accounting career, our Ab² courses will:
The future of accounting abounds with opportunities for accountants who choose to always learn. So, what will you learn next?