Too many accounting professionals are prevented from billing their potential because of low-value, administrative work…
Tasks such as email management, calendar management and reporting tend to get in the way of much more exciting, valuable and lucrative activities.
Now, more and more accountants are delegating their admin burden to an offshore Executive Assistant (EA).
And while the total cost may be up to 80% less than the cost of an onsite EA, many accountants still want to know:
How will this work?
How can I ensure my EA starts adding value from Day 1?
What tasks should I delegate and in what order?
Today's article will answer all these questions and more.
What's The Business Case For An Executive Assistant?
Most senior accountants are not as productive as they would like to be. The most common complaints are:
Email and communication chews up far too much time (often 1.5 to 2 hours per day)
High-value work is squeezed out by low-value busywork and administration
Partners and managers have to work long hours (hurting work-life balance)
This leaves even less time for business, personal and professional development
Many accountants who report these symptoms aren't doing badly. In fact, many are doing great work and earning well.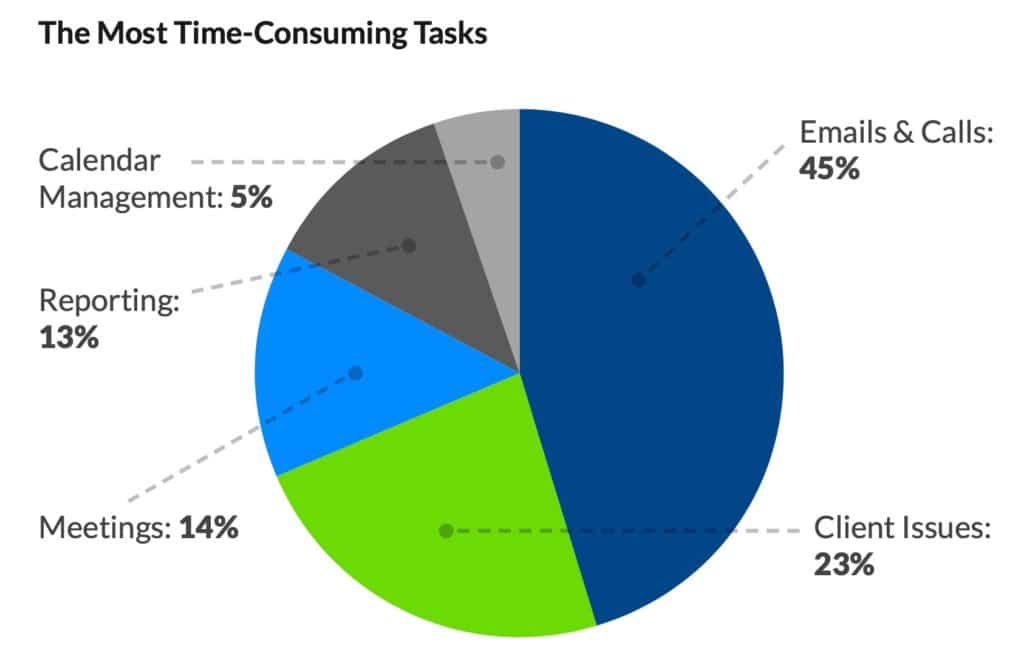 The Solution: Boost Your Impact With An Offshore Executive Assistant
One obvious way to increase your impact is to hire an Executive Assistant to take some of the busywork off your plate. The logic makes perfect sense:
Reduce time spent on low value tasks
Increase time spent on higher value (and higher paid) activities
… but the devil is in the detail.
You also need to consider how to onboard your Executive Assistant so that they start providing value from day 1, without a protracted "ramp up" period.
We recommend a phased approach, where you outsource the easiest and most time consuming tasks first, then graduate over time to more complex initiatives.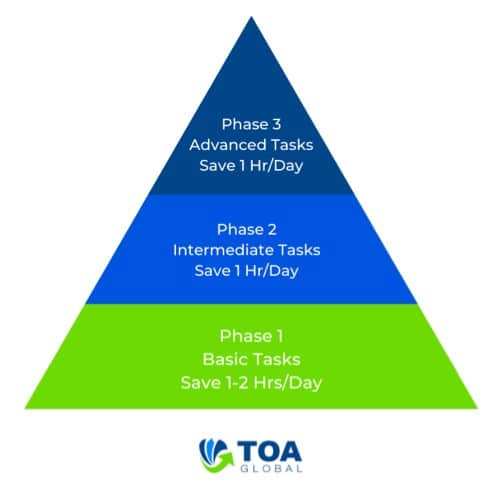 Basic Tasks: Save 1-2 Hours Per Day
(These are tasks that require little domain-specific training or background knowledge, and are not client-facing)
Managing your email inbox
"Starring" important items that require a response
Composing basic replies (e.g. confirming meeting times)
Filing reference items (e.g. PDF documents)
Deleting / unsubscribing from spam
Managing your calendar in accordance with your "ideal week"
Taking and circulating minutes from meetings
Basic data entry
Intermediate Tasks: Save another ~1 hour per day.
(These are repeated tasks that require an understanding of specialised tools or systems. May have a low degree of client contact.)
Generating weekly and monthly reports
Coordinating appointments with clients and partners
Collecting missing information from clients
Updating your CRM with new information
Preparing and sending mail / email merges
Preparing engagement letters
Creating tax office correspondence cover letters
Managing the client onboarding process
Advanced Tasks: Save another ~1 hour per day.
(Repeated tasks with a higher degree of decision making or client contact.)
Answering and returning phone calls
Training office support staff and trainees
Publishing social media updates
Webinar/event planning and coordination
Creating and updating workflows
How To Generate Maximum ROI From Your New EA Resource
Even a modest time saving each day can drive:
better results for clients
improved work-life balance for accountants
impressive Return On Investment for your firm
The keys to success are to:
Hire Carefully – we'll come up with a shortlist of vetted candidates for you to consider (get in touch to get the process started).
Start Simple – start your EA off on low complexity yet time consuming tasks. Within 30 days, you should aim to be saving 2 hours per day or more.
Empower – As you get more comfortable with the relationship, you can look at expanding into intermediate and advanced tasks.
Scale – Fill the time savings with higher-value activities such as business development, client strategy or high value delivery. Improve your revenue per employee and profit per partner by supporting more of your senior staff members with their own EAs.
Conclusion and Next Steps
Accounting firms are constantly looking for ways to satisfy client needs while preserving margins and profitability.
One of the easiest ways to do this is to get your best people in front of clients where they can sell, strategize and support. And a dedicated Executive Assistant can help.
To explore further, here are two next steps:
Download our EA Hiring Guide where we build on the topics discussed in this post, including ROI calculations.
Request a Free Outsourcing Strategy where we'll discuss your needs and propose the right staffing solution to suit.