Firms looking to scale will benefit from one simple tip: think outside your comfort zone. The solution to the challenges you're experiencing may lie in offshoring. One of the most common problems faced by firms looking to grow is the lack of qualified individuals. And it's through offshoring that one of our clients, Measured Results, found the answer.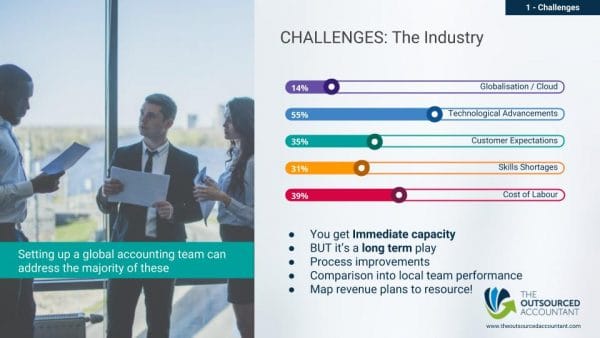 In a previous webinar on How To Build Capacity Through Offshoring, Tyler McBroom, partner, shared his firm's amazing journey on becoming one of the companies that successfully implemented this business model. Firms get busy during tax season. It's a challenging time and it's important that accountants know how to adapt. There are obstacles, however, starting with being bogged down with compliance tasks to not having the right technology to speed up productivity and enhance efficiency.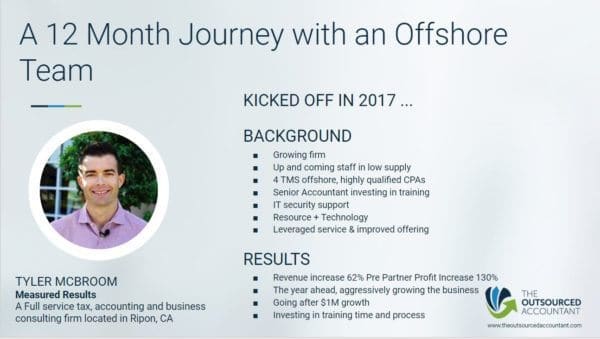 With a steady stream of clients, the firm has one problem: they cannot find the right people to work on specific jobs. It didn't help that their location isn't very accessible. But the shortage of skilled individuals won't help them meet the workload assigned to them. They needed to deliver. And that is where offshoring comes in. In the 12 months that Measured Result has been with The Outsourced Accountant, the firm has experienced rapid growth by expanding their team. In fact, they were able to double their staff. Measured Result's 12-month offshoring journey produced the following results:
62% revenue increase
130% pre partner profit increase
Bolstered growth for the business
More focus in training
Goal of hitting $1M growth
From having only four members, they grew to 12 team members. Now, they are looking into hiring more. Offshoring helped the firm find qualified staff. They now have no less than three Certified Public Accountants (CPA). These are all highly skilled professionals who possess strong work ethic. McBroom recognises that these accountants are very sharp and do very good work. Finding the right people to do the right job at the right price can have a tremendous impact on one's business. That's because you can have increased productivity and enhanced capacity. With the right people, your firm can meet client deliverables. And you don't have to worry about accuracy and quality.
Assembling An Awesome Offshore Team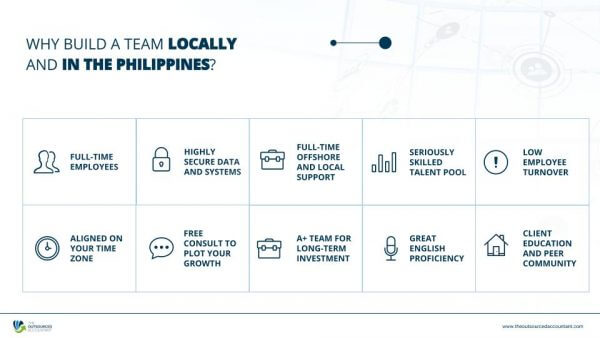 What's great about offshoring is it allows you to tap into the huge pool of talents that are not available onshore. The Philippines, in particular, is a great place to offshore and recruit talents because:
It has a seriously skilled talent pool
Filipinos have a strong work ethic
Filipinos have a very strong affinity to the western culture
The Philippines' time zone is aligned with yours
Furthermore, the Philippines is ranked high when it comes to English proficiency, making working with someone from the country easy because the language barrier is no longer there.The work doesn't stop with finding talent. You need to continually work on keeping your staff engaged and motivated because their mindset towards work will influence their performance.
Getting Your New Team Members Up To Speed
One of the key steps in ensuring success for your accounting firm is to onboard your talents properly. Getting your offshore team members ready entails investing time, effort, and thought because you need to ensure engagement from your remote team. Here at The Outsourced Accountant, we have a dedicated team for onboarding offshore teams called the client experience team. Subsequently, you will need to train your new team members and get them up to speed with the business. It's important to have a clear and outlined training schedule with very specific outcomes. To get the best results, we highly recommend in-person training where you either fly out your team member to the onshore office or have a point-of-contact to go to the Philippines to provide training. In this process, you will be able to walk the team member through the specifics of their role, the processes and systems, and, more importantly, to establish good rapport. For Measured Results, McBroom shared that having their offshore team member flown to their Australia office yielded favourable results. Following recommendations from other people who've tried offshoring, they had their senior accountant sent over to Australia during their busy season. It turned out to be a huge thing because they were able to establish a good relationship, which also contributed to their capacity. Another strategy is having a manager available to accommodate any questions from the entire team.
Welcome To The Future
Embracing technology is an important step to increasing capacity. As a huge enabler for offshoring, technology has transformed the way accountants work. It has made distributed workforce possible. Now, accountants can work anytime, anywhere by switching to the cloud.There is a wide variety of software, apps and tools that have automated tasks from bookkeeping to generating reports, which significantly improved firm productivity and efficiency. When Measured Results started offshoring, they transferred everything to the cloud. 80% of their clients are currently using Quickbooks Online. They also recommend that their clients go web-based. By switching to the cloud, their team members can now focus on growth-oriented activities. Working with an offshore service provider will definitely pave the way for significant improvements for firms. While it's not a magic pill, when done right, can yield the results you want. Offshoring can give you immediate capacity BUT know that it is a long-term play.