As technology automates many of the tasks accountants used to do (such as data entry), it becomes less of a "Wow Factor" and more of an expectation.
Yet on the flip side, the value of the human element increases. Right now we're seeing Customer Experience (CX) become the new competitive advantage for firms aiming for outsized profitability and growth.
In this article you'll discover how accounting firms can deliver a 5-star customer experience at scale using 7 specific PEOPLE, PROCESS and TECHNOLOGY strategies.
What Is Customer Experience Anyway? (And How Is It Different From Customer Service?)
Customer Experience is defined as:
How customers perceive their interactions with your firm.
Whereas "Customer Service" is defined as:
The help and advice provided to your clients who buy or use your services.
As you can see, customer service is reactive. It's designed to "deliver an expected standard when asked", as opposed to delighting the client.
This graphic illustrates the distinction further, as well as some of the key benefits of an outstanding CX:
Now that you know what Customer Experience is, let's talk about some practical strategies for making CX happen in your firm…
Leveraging PEOPLE, PROCESS and TECHNOLOGY To Deliver a 5-Star Customer Experience
When you get PEOPLE and PROCESSES aligned, you deliver EFFECTIVENESS.
PROCESSES and TECHNOLOGY will deliver EFFICIENCY, but lack the human touch.
And PEOPLE plus TECHNOLOGY strategies will deliver LEVERAGE, but may get off track without PROCESS.
It's only by combining PEOPLE, PROCESS and TECHNOLOGY that allows you to deliver an outstanding CX at scale.
Three Actionable PEOPLE Strategies To Boost Customer Experience
1. Conduct In-Depth Interviews With Your Best Customers
You already understand the importance of "knowing your customer". But have you ever conducted In-Depth Interviews with your best customers to find out how you can serve their needs better?

Interviewing 4 to 10 customers will provide far deeper insights than a hundred email surveys or NPS scores. Here's a guide to follow:

How To Do Customer Interviews That Reveal Priceless Insights (via CrazyEgg)
2. Create A Customer Service Vision and an ALWAYS/NEVER List.
Customer Service Vision is a term coined by customer service expert John DiJulius. Don't be fooled by the word "Vision", which may sound airy-fairy. Your Customer Service Vision is the answer to the question:

What do we have to DO every time?

Instead of saying, "Be nice to clients when they walk in the door", you need to create specific rules and action steps that specify what is expected. One tool that helps you to do this is a NEVER/ALWAYS list. Here's an example: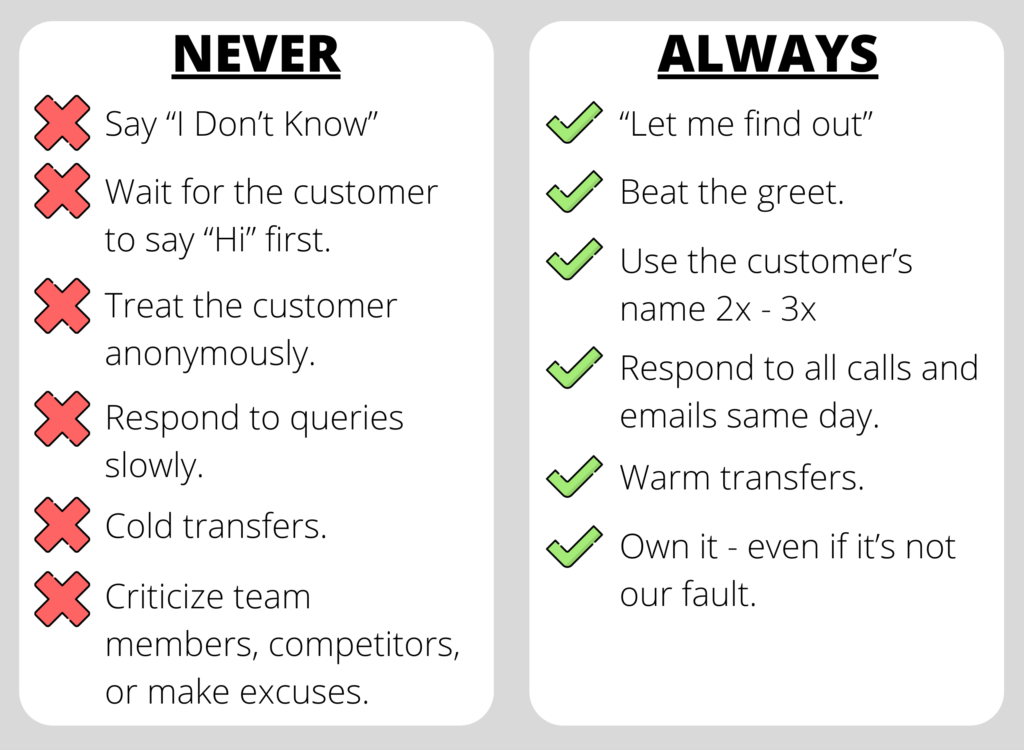 What else could you add to this list for your firm?
3. Train Your Team In Customer Service
Accountants love training their team members in technical topics, but often lag behind when it comes to soft skills like customer service. (Refer to Trend #7 in our Top Accounting Industry Trends Infographic).

Books such as Raving Fans by Ken Blanchard and Sheldon Bowles, Delivering Happiness by Tony Hseih and Never Lose A Customer Again by Joey Coleman should be a part of your business library. Resources like these are a useful jumping off point for delivering customer service training to your team.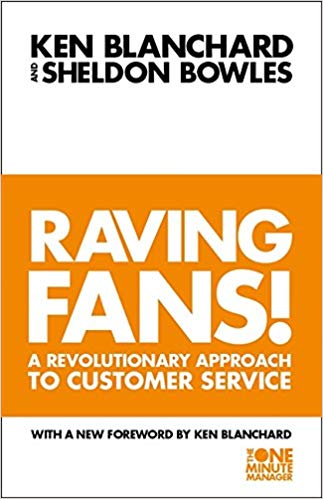 (Side note: Joey Coleman is one of the speakers at our upcoming TOACON 2020!)
Two Actionable PROCESS Strategies For Enhanced Customer Experience
1. Map Out Your Entire Customer Journey
The best way gain visibility over your Customer Experience is to map out your entire customer journey.

Use a flowchart software such as Visio, Lucid Chart or Moqups to understand exactly what is happening and when. (You may find that you're not exactly sure what should happen or what is happening. This is good to know!)

Once you understand what is happening, you can start to gather ideas from your team on what should happen in order to deliver a dream-come-true experience.
2. Use Multiple Touchpoints (To Free Up High Value Interactions)
Many an accounting client has complained, "I can never get my accountant on the phone and it takes forever to get an email response!".

This is bad news for the client and disastrous news for your firm because clients will leave.

We recommend that accountants use strategic outsourcing to delegate lower-value work, freeing them up to focus on high-value sales, strategy and service.

It's also useful to deploy a variety of touchpoints to provide meaningful interaction with the client. These touchpoints can include:

In-person meetings
Emails (personalized and automated)
Text messages
Phone calls
Presentations (either virtual or in-person)
And more…
Two More TECHNOLOGY Tactics To Improve Customer Experience
It's easy to see how technology can be used to automate and streamline your firm, but not so easy to understand how tech can boost customer perceptions.
1. Run A Firm-Wide CRM System And Follow The FORD Method
Making your CRM system an integral part of your business is the key to enhancing customer experience, but not in the boring way that most firms use one.
One amazing tweak to your CRM system is to start following the FORD Method:

FORD stands for:
Family (partner, spouse, children, extended family)
Occupation (job, business, professional interests)
Recreation (hobbies, travel, reading, music, interests)
Dreams (personal, professional, philanthropic)
Here's how you deploy this strategy:
Add the FORD fields (and sub-fields) to your CRM system.
Make it the job of your whole team to add something to your FORD database as a result of every interaction with a customer.
Use your collective knowledge to delight the client!
Step 3 is the most interesting. You want to avoid being creepy by knowing TOO much about the client, but the following are examples of practical ways you could execute this in real life:
Send your client an appropriate gift on the birth of a child.
Ask how their vacation to the Maldives went.
Send them Demolition Derby tickets for referring a big client (not your usual movie tickets).
Strike up a conversation about the latest Jack Reacher book.
You're probably already starting to see the possibilities. How great would it be to be to deliver this level of WOW customer experience for every client, every time?
2. Leverage Technology To Alleviate Annoyances
Many clients will tell you responding to document requests from their accountant is an annoyinging part of the process.
Similarly, most accountants get frustrated because clients take forever to send them the information needed to work on their file.
The solution is to engage technology to streamline annoyances so you can focus on value. For example:
Use E-sign software to avoid printing, signing and scanning physical documents.
Use a document collection app to request documents and follow up on the missing pieces.
Store or archive important documents such as trust deeds so you don't have to keep requesting them.
Use automated reminders via email to provide notice of upcoming deadlines and requirements.
By eliminating the bad things, you can do a lot to enhance customer perceptions.
Conclusion And Next Steps
Evolving trends in the accounting industry are putting the customer firmly at the center of everything you do. Technology is changing the industry, but is now something of a commodity and an expectation.
Firms that deliver an outstanding Customer Experience through People, Process and Technology will enjoy greater margins, profitability and customer retention.
So please go ahead and implement the strategies in this article and let us know how you go.
And if you'd like to explore how we can help you add more value to clients and deliver an even better Client Experience, contact us to get a Free Outsourcing Strategy and Plan for your firm.