For close to 12 years, Nick Sinclair, Chairman of The Outsourced Accountant, struggled in trying to run his accounting, bookkeeping, and financial planning firm. Hours were spent each day replying to emails, taking calls, managing calendars, and other admin tasks. They were slowly losing revenue because of the cumulative effect of them doing non-core tasks each day. With little to no time focus on revenue-generating tasks, workload piled up, and Nick and his team struggled to keep up. But Nick implemented the right tools and strategies and got his team out of the weeds. Here is our Chairman's key insights on productivity and people strategy.
How Is Your Workflow Really Going?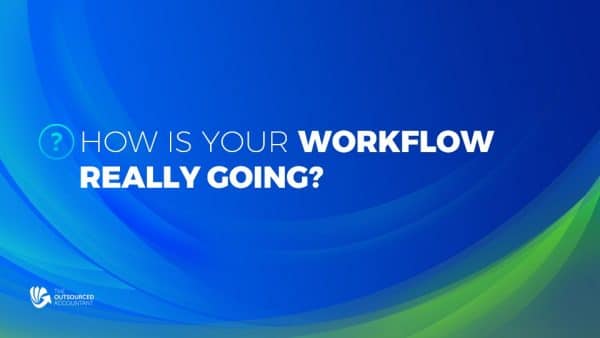 Take a step back and ask yourself this question: "How is your workflow really going?" If you feel like you don't get enough work done, don't worry. You are not walking this path alone. It is a fact that a vast majority of accounting firms the world over are buried in workflow.
Missed deadlines, outdated lodgments, incomplete paperwork, and what have you are common occurrences. One can think of many factors that you can attribute to these to but do you know the real reason why?
The wrong people are doing the wrong type of work. Many partners and managers do work that can be done by other people. Keep reading as we will elaborate which types of work we are referring to. The point here is spending a significant amount of time doing work that are not 'dollar-productive' means you are doing your accounting firm a disservice.
The best firms – meaning those who peak productivity to hit and even exceed profit margins – they fine tune their processes. This is to ensure that everything gets done on time and with the quality one expects from highly paid professionals.
Limiting Factors Crushing Productivity…And Your Team!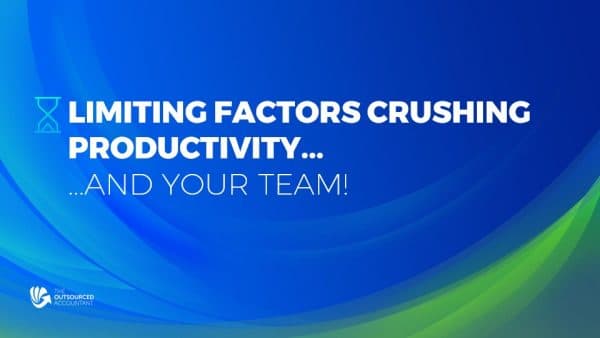 Did you know that accountants, accounting firm owners, partners, and managers spend 1 to 2 hours per day doing non-revenue-generating tasks? That is 400 hours billable hours per individual per year! These are admin tasks that have become limiting factors crushing productivity and, in the process, your team.
They include:
Emails
Meetings
Calendar Management
Reporting
Client Issues
In poll taken during this webinar, 67% of attendees say that emails are the number one blockers that limit their productivity. While one might think that this is an isolated result, the truth of the matter is that emails have become one of the major hindrances to productivity.
Majority of the time partners and managers sit in front of the computer screen when they should be sitting in front of clients. Nick can attest to this while he was running his firm as he used to receive anywhere from 300 to 450 emails per day. Can you imagine that? If you're a rainmaker, your work should be talking to clients, right? Then, why are you sitting in front of your computer?
Coming second and third in our poll were meetings and client issues respectively. It is a given that you should have internal meetings to align your team. But if they eat a large chunk of your day, then nothing gets done. Team meetings should be short and concise. The less time you spend in them, the better.
When it comes to client issues, accountants, owners, partners and managers shouldn't deal with them directly. Someone in a specialized role can deal with them better so you can be more productive. Watch the webinar above to learn what this role is.
People Strategy: The Impact of (Not) Getting It Right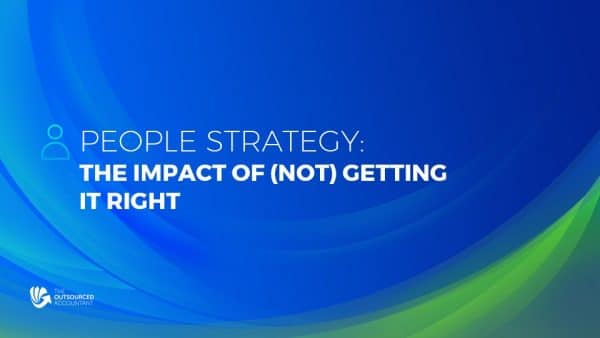 Again, it comes down to the people factor of the success equation. It's has become all too common for accounting firms to not have a people strategy. Ask yourself: When you last sat down to map out your firm's objectives for a financial year, did you work out how may staff you need to achieve those objectives?
Most firms think they are under-resourced because they can't find or keep the right staff. But, we typically see that most firms are over-resourced – they just have the wrong people doing the wrong work.
Having the right people strategy is critical to achieving your growth strategy. The crucial elements to an effective people strategy are:
Attracting, keeping, and growing the right people in the right roles
Having the right technology so they can fulfill their roles effectively
Implementing the right processes so they can do their work more efficiently
If just one of these three key elements is missing, you will have effectively doomed your firm to fail.
Conclusion
This is Nick Sinclair's view specifically on productivity and people strategy. There are loads more insights you can learn when you watch the webinar. You will discover how the effect on customers and the referrals they send your way when you are too busy doing non-core tasks each day. Learn, if you haven't already, about 'The Urgent Versus Important Matrix' that will help your daily time management. See our recommendations for apps that can help streamline your workflow as well as the four roles that will make a massive difference in increasing your productivity.
But one critical point to remember though. When we say, the right people, we mean A-players – those with the requisite skills, work ethic, and attitude that will help drive your firm towards sustainable growth. This is what we do best. We provide more than 300 accounting firms around the world with over 1,000 specialist accountants, bookkeepers, and financial analysts as well as marketing, sales, finance, and administration support staff that deliver the results our clients want.