In our last blog, we covered the accounting employment trends of 2021 and this time around we're turning our lens specifically on the accounting industry only – accounting trends 2021. While there are similarities between the two groups of trends, they share one trend in common: outsourcing. We'll get into that in a bit.
In addition to outsourcing, the accounting trends for 2021 are cloud accounting, data analytics, upskilling and social media.
Why accounting trends are important
Owners of accounting firms who keep their eyes on accounting industry trends have an advantage over competitors who may be oblivious to these trends, because they can then use the information to customize their strategies to scale and grow their businesses.
In other words, accounting trends are important because they can affect a business' success. Now let's take a closer look at this year's trends.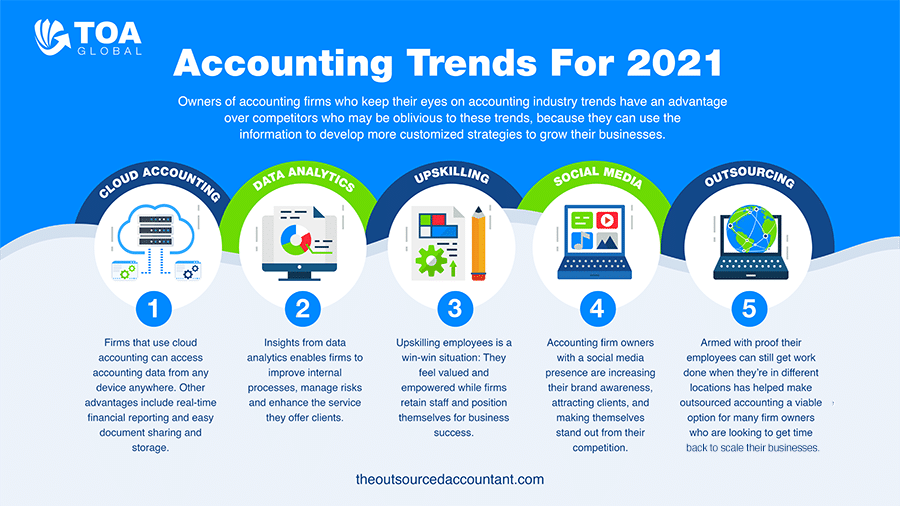 Cloud accounting
Cloud accounting was on our list of 2020 accounting trends and it appears again on this year's list. This suggests it's becoming an accounting industry staple, rather than a passing trend.
What's behind the increased prominence of cloud accounting? Decentralized and remote workers.
Accounting firm owners have been discovering the benefits of adopting cloud technology: they can let their staff work from home because they can access accounting data from any device anywhere. It also offers real-time financial reporting as well as easy document sharing and storage.
Real-time analytical data is another benefit of cloud accounting, which brings us to our next trend, data analytics.
Data analytics
Let's pretend an accounting staff is working on completing tax returns for clients, but unbeknownst to the firm's owner, it's taking too long. Enter data analytics, which can reveal information such as the amount of time it takes to complete a tax return, or even an audit. Armed with this information, the accounting firm owner can make adjustments and provide a better client experience.
Data analytics offers real-time data that enables firm owners to make better business decisions that helps them remain competitive.
"Some experts even predict that companies ignoring data analytics may be forced out of business in the long run," the Journal of Accountancy reported in 2016. It's a statement that remains true today.
A firm that can gather and analyze information that identifies risks, trends and operational inefficiencies can improve internal processes, manage risks and enhance the service they offer clients.
Upskilling
There are a few good reasons why accounting firm owners should offer their staff opportunities to upskill:
It shows staff they're valued
It empowers staff and "future-proofs" their careers (especially during times of uncertainty)
It can help firm owners retain staff
It positions firm owners for future success
Advancements in technology (see cloud accounting and data analytics, above) is one big reason for the uptick in upskilling. As more accounting firms turn to automation, for example, they are going to need staff who understand and know how to use that technology.
Social media
Many organizations – accounting firms included – post, tweet, snap and share news, photos and videos on their social media channels to connect and engage with clients, attract new ones, and boost their brand recognition.
Accounting firms who aren't on social media are missing out on a powerful lead-generation and branding tool – being in an environment where every word, photo or video can be liked, shared or commented upon by unbiased individuals can't be underestimated.
Accounting firms can leverage social media to showcase what it is that makes them special, and thereby stand out from their competitors.
Outsourcing
With more people working remotely this past year, the concept and actuality of having remote workers has become more familiar with more accounting firms.
And now armed with the confidence that staff in different locations can still produce quality work, firm owners are turning to outsourced accounting as a viable business strategy.
By delegating the accounting functions they were spending far too much time on, such as daily administrative and compliance work, owners of accounting firms can turn their attention to higher-level strategic work, such as developing that social media plan or promoting local staff to roles that involve greater responsibility.
Conclusion
Cloud accounting, data analytics, upskilling, social media and outsourcing are the accounting trends of 2021. The common theme among them is technology – technology that enables users to communicate, collaborate and learn. Obviously, these are all crucial when it comes to running and scaling a competitive firm that offers accounting services.
By keeping themselves informed about accounting trends, firm owners can better position themselves for success.
If you'd like to learn more, please sign up to receive our free Accounting Outsourcing Strategy and Plan.