This is an updated version of our March 29 webinar.
In our latest webinar, The Outsourced Accountant Chairman, Nick Sinclair, discussed the ways to drive success to your firm by setting up an offshore team. Among the topics covered were:
Profiles of accounting firms
Big issues in the industry
Your support to grow
Business case and models
Is Your Firm Ready For Outsourcing?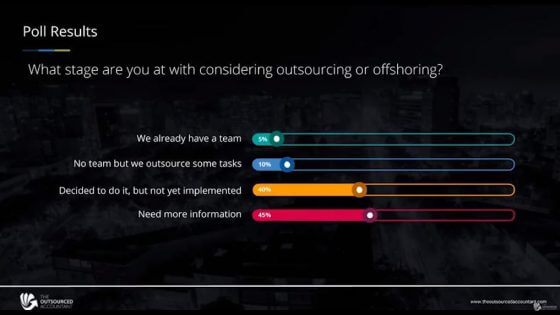 In our March roadshow, we spoke to more than 200 accounting firms to help them learn the ways to drive success to their business by setting up an offshore team.
We asked participating businesses where they are with offshoring and found that:
5% of firms already have an offshore team setup
40% have decided to offshore but haven't implemented the steps
45% said that they still need to learn more about offshoring
10% still don't have any team setup but are already outsourcing some tasks
Bookkeeping Is Growing
There is a huge growth in the industry, particularly bookkeeping
It is one of the fastest growing aspects of running a successful accounting firm
Here in The Outsourced Accountant, we have more than 50 requests for new team members and 40% of those are for bookkeepers
Looking At The Profile Of An Accounting Firm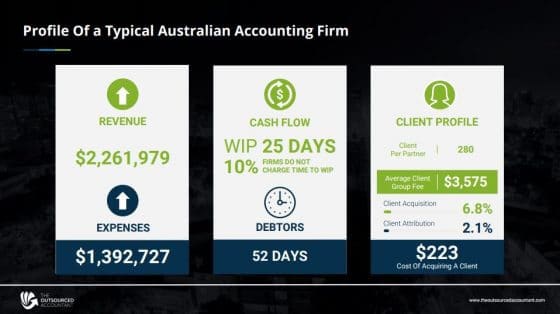 There are different ways to run an accounting firm. There's really no right or wrong way. Based on what we've seen so far, accounting firms are profitable. The only thing that stuck out and felt like an issue was cash flow.
That's because the WIP days are taking way too long. In fact, it's taking accounting firms, on the average, 52 days to get paid once they have completed the work. Most companies don't even charge for the WIP, which means they are doing work but not getting any revenue for it.
New Or Existing Clients?
One of the things we wanted to know from firms is if they are focusing on existing clients or working on new clients to gain more business.
Most of the accounting firms don't have the capacity to get all their work done on time yet they still continue to take on new clients.
The reality is we can't even manage the ones we already have and yet we continue to add more. It all boils down to workflow and people management.
Big Challenges In The Industry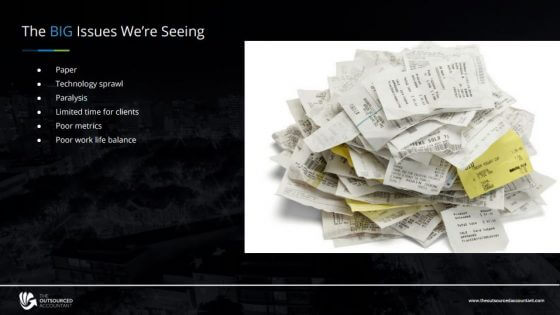 Many firms are still paper-based
Many companies still acquire and gather data through physical documents
Companies haven't embraced digital signatures and technology that can automate processes
Using automating tools, like Receipt Bank, can save accountants between 4 and 8 hours
Too much technology
Too many choices for software and tools can lead to technology paralysis
Having too much options can cause confusion and overwhelm clients
Firms can either be given too much and not use it or not put in anything at all and risk not delivering any value
Look into using value-added technologies you can use
Limited time for accountants
Compliance tasks consume too much of accountants' time
Having limited time can affect productivity and, in the long run, efficiency
No work life balance
Spending too much time on low-impact tasks can keep accountants from focusing on work that generates revenue
When accountants are too busy with compliance, they are more likely to spend more time inside the office
Busy accountants are susceptible to a disrupted work life balance
Fresh from our successful roadshow across the country, we are bringing to you the key insights from accountants who are working with offshore teams to drive success to their firms.
We'll talk about the following topics:
Key insights from the 2018 roadshow
Performance profiles and opportunities for accountants
Key processes to target
Key metrics firms need to focus on
Secure your spot now by registering through this link.
Can't Find The Right People With The Right Skills?
Skills shortage is a major concern for many businesses. While there are many professionals available, finding the talent that perfectly suits the role you need can be a challenge. The good news is there a huge pool talent in the Philippines that you can tap. Setting up an offshore team will connect you with the right people for your roles.
You need to enhance capacity to add more value for your clients, improve work-life balance and increase revenue. Bridge the gap between the time you want to spend with clients to the ACTUAL time you are spending with them by building an offshore team that will help grow your business.
Tune into this webinar to discover the steps to building your offshore team.
To unlock the secrets to setting up an offshore team, listen in on Thursday, 29 March 2018 from 12:00 NN to 1:00 PM QLD (AEST) | 1:00 PM – 2:00 PM NSW/VIC (AEDT).

---
The Outsourced Accountant helps accounting firms from all over the world grow their capacity, margins and profits through global outsourcing. Contact us to find out more about how we can help your firm.