Looking to be scalable, to get leverage and eventually build a business that can run without the owner, Sky Accountants was one of the first firms to give outsourcing a try and later on embrace it because of its great benefits and the opportunities it brings.
Key takeaways from this interview:
What made Jamie decide to outsource dedicated staff

The performance of his offshore team, and his future plans for them

The benefits that Sky Accountants has gained for investing in training

What were Jamie's fears and doubts when starting to outsource

What Jamie has realised when he started to build an offshore team in the Philippines

How has The Outsourced Accountant (TOA) helped Sky Accountants through outsourcing

The benefits that Sky Accountants gained through outsourcing

Jamie's advice to accounting business owners
---
It's always been a positive experience, an affirmation of our business' vision and values when we connect with our clients and learn about their outsourcing journey and successes, which for us is reflective of our own success as well.
Today, the spotlight is on Jamie Johns of Sky Accountants, one of the first firms in our clientele list to embrace outsourcing. Jamie provides us with some valuable insights into his outsourcing journey, his doubts when he started outsourcing, and some pro tips for business owners who are looking to grow their firm. These and more below in our excerpts from our interview with him.
Meet Jamie Johns, CEO of Sky Accountants
Jamie, an entrepreneur at heart, started 'Sky Accountants' from his home office. He specialises in helping business owners 'build a business that can run without them'. Sky Accountants deliver on this promise to guide individuals and businesses to success via the most efficient processes and proactive business partnerships.
Jamie has five full-time dedicated outsourcing staff in Clark, Philippines. Donita and Jacqueline are accountants, Kimberly and Jesille are bookkeepers, and Adrian is a marketing specialist. As the business grows, Jamie is looking to expand his offshore team at TOA next year with another three or four.
In the early stage of his outsourcing journey, Jamie needs to train his offshore team with Australian Tax, computer systems etc. Creating a domino effect where training one person can help train other people to do the things that are needed to do. The process becomes a lot easier as they go further and eventually their persistence on training paid off. "If you stick to it and have persistence, you'll get the rewards," says Jamie.
But, how did it all start?
Sky Accountants And Their Outsourcing Journey
To be scalable and to get leverage, these are Jamie's main reason to outsource. In a global economy where borders don't necessarily matter anymore, Sky Accountants is one of the first firms to embrace the opportunities that other countries could bring through technology. They are quick and smart to recognise that outsourcing is a natural part of it.
"Any successful business owner has to realise that the world is smaller and border don't necessarily matter anymore. It's important to embrace the opportunities that you've got with other countries and come together and do your best.
Jamie Johns
Like everyone else, Jamie had his own sets of doubts and challenges when he started outsourcing.This includes communication, quality of work, speed, turnaround time, and other common fears in a business. But once they started operating and adding staff to the team, it just got easier especially with the use of the right technology. Sky Accountants learned to overcome these fears in the process.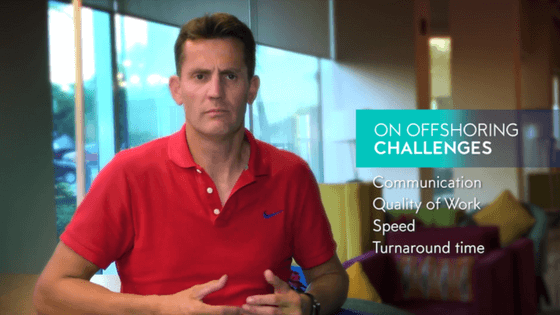 Now on his third year with TOA, Jamie couldn't be happier with his offshore team and their valuable contribution to Sky Accountants. When talking about his offshore team in the Philippines, Jamie is keen to answer "They're all totally enthusiastic. They're always great to deal with, and very positive. Their productivity is great and I couldn't speak more highly of them."
With the business growing, the longer that they work with their staff and the more they train them, the smarter and more efficient they become. It's a win-win for both Jamie and his offshore team and their clients for providing the best accounting services.
How has TOA helped Sky Accountants
Jamie specifically highlighted three of the main benefits Sky Accountants has gained through outsourcing with the help of The Outsourced Accountant, "The team that Nick has put around himself both here and in Australia is excellent and they're always open to feedback and improving their business. They're always approachable and you always get timely responses."
According to Jamie, having a team offshore is like having a team locally. You implement the same process, you treat them as part of the team and you unite the business and paint the future where you want to take it like with any other team members. That's how he treats and values his team offshore. "They're all part of a larger strategy to grow our business and it's a global economy," he added.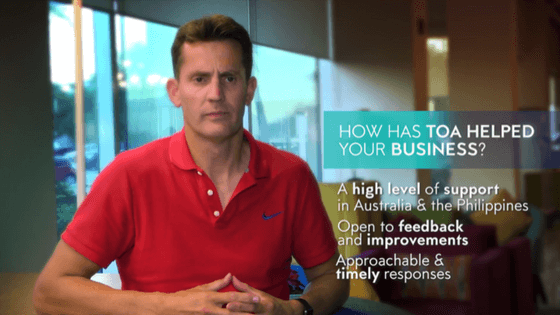 If you're an accountant, a business owner, or an adviser who is considering to invest in this space to achieve business efficiency, profit, and growth, here's Jamie's advice for you:
"When you start doing outsourcing, it's important to get your structures and processes right. You need to systemise your business, you can have how-to videos and all sort of things but the biggest aspect in making it structured and all the workflow process.
Jamie Johns
This is just one of many client success stories at The Outsourced Accountant, where we pride ourselves on establishing a strong working relationship with our clients as a key method of delivering outstanding results each and every time.
Watch his full client testimonial video above.
---
The Outsourced Accountant helps accounting firms from all over the world grow their capacity, margins and profits through global outsourcing. Contact us to find out more about how we can help your firm.