Discover when, why and how to research whether or not a company is a good fit for you.
A company's culture can make the difference between a good place to work and a great place to work. By extension, it affects employee attraction and retention, and tells job seekers a lot about whether or not a company aligns with their values, priorities and preferences.
This is why a good cultural fit is key for both an employer and a job candidate.
We'll get into how you can assess the culture of a company in this article, so you can confidently decide if you should pursue job opportunities. But first …
Why is company culture important?
"A solid company culture creates a powerful brand identity that encourages both clients and employees to take pride in being attached to the company name," says Almerita (Amy) D. Leung, a director of People and Culture at TOA Global.
"It eliminates ambiguity by providing everyone with a common set of visions, goals and expectations. It defines with clarity what is important, which in turn helps identify where we want to go and how we can get there."
So if what's important to a company is important to you, that's one indicator of a good fit. Here are more ways to figure out if a company is a good fit.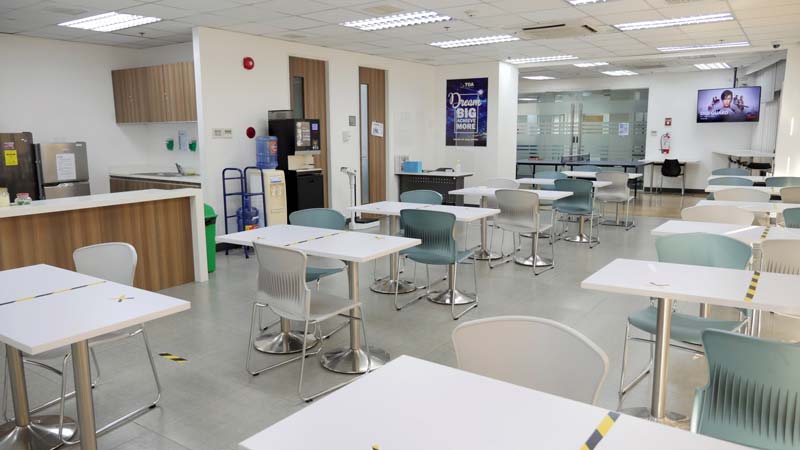 A peek inside TOA Global's facility in Manila.
Different ways to research organizational culture
Amy offers several ways you can assess a company's exising culture. They are:
Checking out the company through their website, news reports and employment media (such as reviews on Glassdoor). Positive reports and reviews are obviously indicators that things are going well at a company.
Examining their ads – are they serious, funny, modern or traditional? This will give you an idea of the tone at a company.
Reading about company leaders through social media such as LinkedIn, Facebook, Instagram and Twitter. Again, determine if what you read is positive, neutral or negative, and see if you can get a feel for what the leaders are like.
If you can visit the company's actual building, have a look at the facilities. What do they look like? Are they clean and well-kept or shabby and messy? Do they look like they've been designed for fun and/or efficiency?
While you're in there, see if you can have a look at how employees are behaving. Are they professional and respectful, or are they a rowdy bunch? The former may represent a more conservative place to work, where the latter may represent a more casual workplace.
If you are invited to interview with a company, gauge what that experience was like. How were you welcomed? Were they on time, or if your interviewer was late, did he or she apologize, or otherwise show respect for your time? What was the tone and manner of the interview (and any other messages you may have received throughout the recruitment process) like?
Ask friends and acquaintances who worked for the company or are currently working for the company for feedback on what it's like to work for the company, what the office or work environment is like, and what they like about working for the company.
Company culture red flags
"Employees are the best proof of a company's culture," says Amy. "Their behaviors inside and outside company premises, and posts on social media, can provide crystal clear indications of red flags."
While you're doing your research on a company's culture, you may come across information or behaviors that may make you think twice about joining an organization. These are red flags, and here are a few examples of them:
Poor response to critical incidences – how a company reacts and publicly addresses adverse events provides a glimpse into what matters to them.
Lack of inclusion and diversity in the workplace – this could be an indicator of prejudice.
High leadership turnover – senior leaders who fail to establish tenure in a company might indicate a gap in the selection process.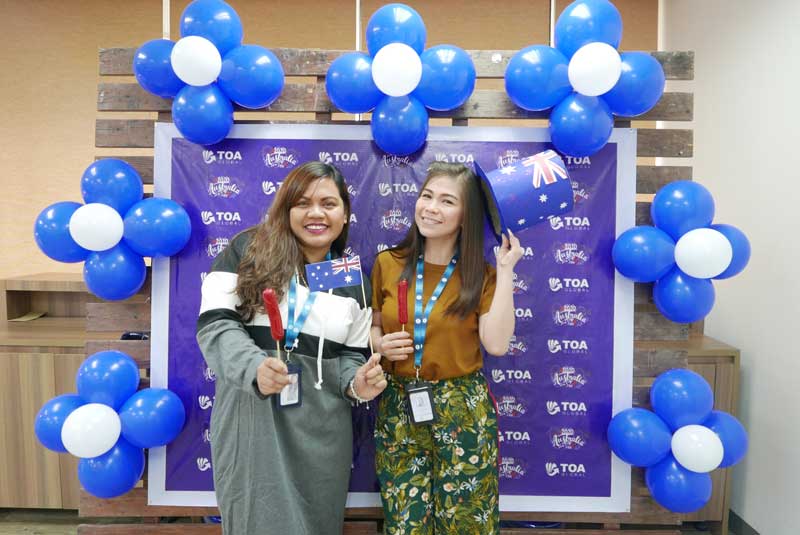 The culture at TOA Global includes celebrations on notable days, like Australia Day.
Conclusion
An alignment between a company's culture and you, a potential employee, is important. Ultimately, it ensures you and the company are on the same page with respect to values and priorities. If there's a conflict there, a company may move on to a candidate who's a better fit, or you may not work for the particular company for long.
To maximize the use of your time as a job seeker, we recommend you assess a company's culture as soon as you're considering working for a company. This will save you time applying for jobs at a company that might not be a good fit.
You'll also have information ready to use in an interview if you do apply at a company that appears to be a good fit and contacts you for an interview. Mention facts about its culture at the appropriate time and show your interviewer you've done your homework and are invested in pursuing the role.
If you're a Philippines-based accountant or bookkeeper seeking a career and not just a job, considering applying for a job at TOA Global. We'd love to meet you!