Marketing your accounting firm can all be done in-house, thanks to the digital tools that are available today – for free!
The innovation that emerged from the COVID-19 pandemic has had a positive impact on 45 per cent of CPA firms, the 2021-2022 AAM Marketing Budget Benchmark Study suggests.
Many firms offered their clients new services, cut costs because staff was working from home, and adopted new technologies to accommodate remote work, as well as marketing efforts. According to the study, 85 per cent of firms experimented with new marketing and business development initiatives, such as webinars and virtual events.
Maybe you're the owner of one of these accounting firms. When it comes to marketing accounting firms, owners have definitely leveraged the digital space since the pandemic took hold.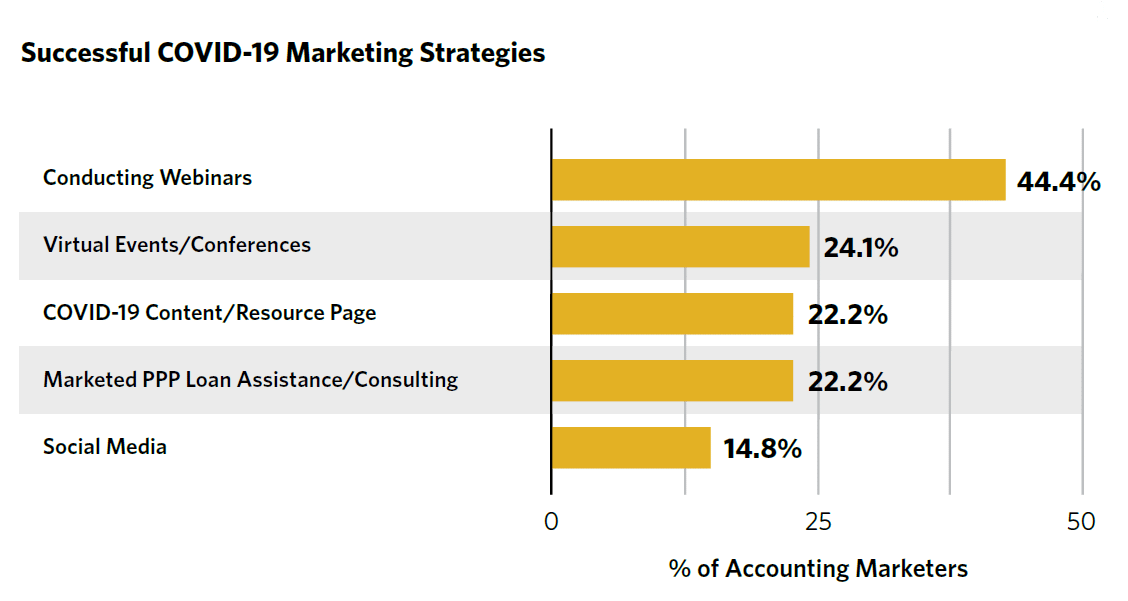 Source: The 2021–2022 AAM Marketing Budget Benchmark Study
Webinars and virtual events are only two things that make up a marketing toolkit. This Marketing Toolkit For Accounting Firms will provide you with more marketing tactics and effective marketing strategies you can use, from now to beyond the pandemic.
Marketing toolkit for accounting firms table of contents
1. The importance of having a website
First things first: If your accounting or bookkeeping firm doesn't have a website, we recommend creating one as soon as you have a chance to do so. You can even build one yourself for free – without having to know web design or how to code – through sites such as WordPress and Squarespace.
Your website is valuable online real estate when it comes to marketing. It's likely it will be the first place prospects visit to research you and what you have to offer when they're considering working with you.
Having an online presence is also important because statistics suggest 85 percent of consumers conduct online research before making any purchase, and for accounting services that number is greater than 60 percent.
You can make the most of your website with search engine optimization (SEO), including clear and impactful images, and ensuring it answers any questions prospects may have about your services. Include an online appointment booking app, such as Acuity Scheduling or Calendly, and you've made it super easy for prospects to schedule appointments with you, too.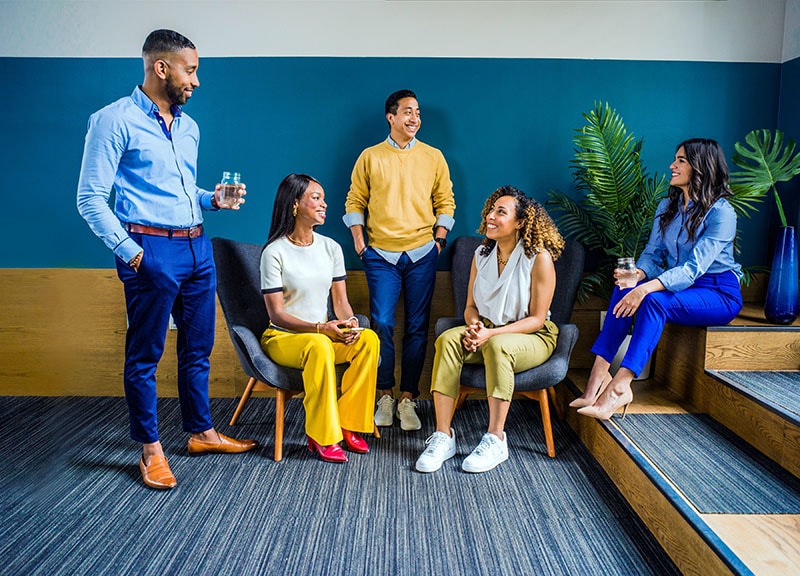 Perhaps your new website will include a photo of your team. To help the image stand out, we suggest making sure no one is hidden in shadow (i.e., that the lighting is good), that the background isn't distracting, and that the image is sharp and in focus.
2. Creating your accounting firm marketing plan
Now that you have a website up and running, let's look at creating a marketing plan for your firm.
Some of you may be wondering why you need a marketing plan – can't you just promote what you want to promote whenever you want? You can, but a plan enables you to be more strategic and focused.
Overall, a marketing plan links your business's strategic direction with the delivery of results. On a more micro level, it connects the right activity happening at the right time, in the right channels, to target the right audience. All of these efforts are to achieve a goal, whether that's increasing the number of visitors to your website or getting both clients and prospects to register for your workshop.
Creating a marketing plan for your accounting firm involves identifying your goal and the steps you'll take to reach it. And it doesn't have to involve a convoluted process. Our one-page template contains sections you can complete, to help get you on your way toward your goal.
"The aim of marketing is to know and understand the customer so well
the product or service fits him and sells itself."

– Peter Drucker, management consultant
3. Tools accountants and bookkeepers can use to find clients
Today's technology has increased the various ways accountants and bookkeepers can find clients. From hosting or being a guest on podcasts or webinars, to posting insightful content on social media, to boosting your website's ranking with effective SEO, deciding which tool or technique to use can become overwhelming.
We suggest first thinking about where your ideal clients hang out. Are they heavy social media users? Do they attend conferences (where perhaps you could speak or set up a booth?) Or do they consume information by watching videos?
Tailoring your tool to your audience will also keep your efforts manageable – trying to use every technique at your disposal may end up being a waste of time and you risk not reaching the right audience.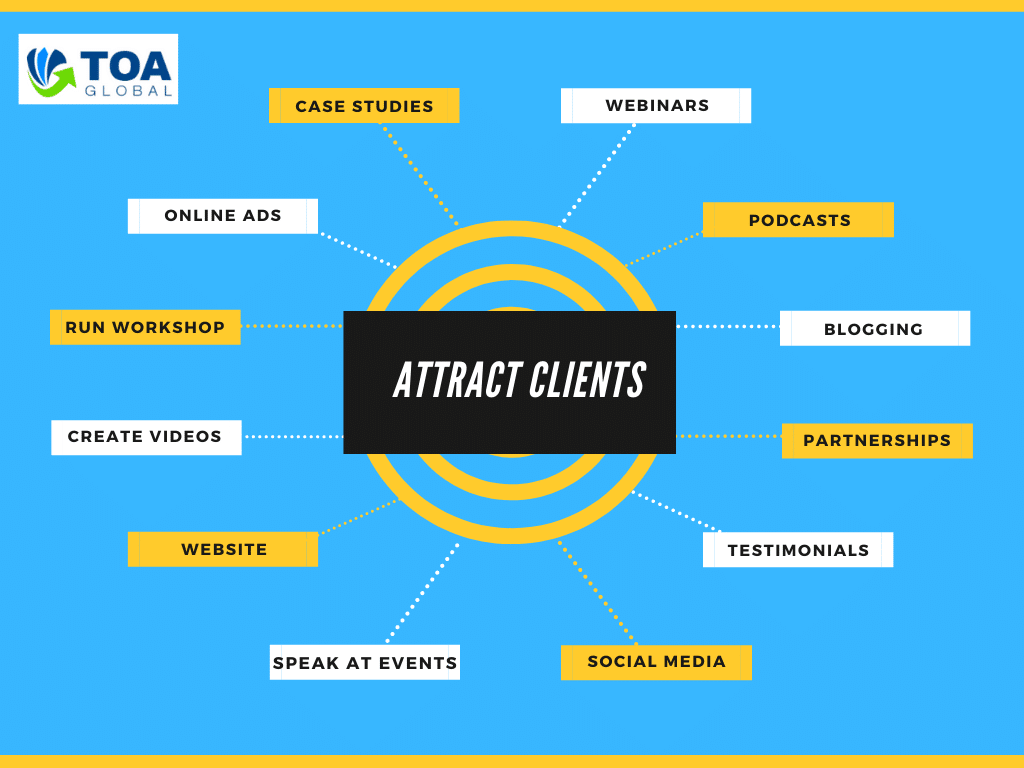 The various tools and techniques accountants and bookkeepers can use to attract clients.
4. Effective accounting advertising ideas
Technology has also enabled accountants and bookkeepers to take a DIY approach when it comes to advertising their firm.
With all the tools available, such as Biteable (to create advertising videos), Facebook Ads Manager (to create ads to be shown on Facebook) and Canva (a graphic design platform), you have full control over what you produce.
Executing some accounting advertising ideas will take longer than others, but things you can start and finish today include claiming your existing profiles on sites such as Yelp, or creating a Facebook Ad.
One idea that will take a bit of time to execute but that we like is sponsoring a charity event. For example, a run that raises money for a particular cause. Sponsoring an event like this will not only advertise your firm, but it will associate your brand with doing good. Another plus? Some organizations produce collateral for their events, such as T-shirts, that bear sponsors' names.
5. How to generate CPA blog topics for your firm
Writing and publishing great accounting blog posts that offer valuable information and unique and quality content has several benefits:
Positions you as an industry expert
Builds your brand awareness and credibility
Drives traffic to your website
Keeps readers (i.e., potential clients) coming back
Creates opportunities for sharing. If your readers share your blog posts with their social networks, it puts you in front of even more potential clients.
These benefits all add up to new leads. But first, you need to write a blog. And before that, you need to come up with an idea for your blog post.
Several techniques can spark inspiration for blog posts. Try plugging keywords into an online tool such as Ubersuggest, consume content (books, magazines, videos, news articles), and see if you can write a blog post based on what you've seen or read, or list the most common things your clients need help with and blog about those.
You can focus one blog on one particular client pain point and the next one on another, so you end up with a series of blogs around the topic of "client pain points." And remember to link your blog posts to your other blog posts when and where it's relevant, to help you rank on Google.
"Don't focus on having a great blog. Focus on producing a blog that's great for your readers."

Brian Clark, founder, Copyblogger Media
6. A quick caveat
You might choose to turn to an agency to help you with your advertising or marketing methods. This is a great way to get experts on your side. However, please research the agency you're considering working with first. The reason for this is that there are scammers posing as agencies who are targeting small businesses.
You can protect yourself from these quacks by researching the agency online and reading reviews or testimonials. Don't hesitate to ask the agency about the types of clients they have worked with, and if you can see any of their completed projects.
While you're online, head to the Better Business Bureau's website and search whether the agency has raised any red flags.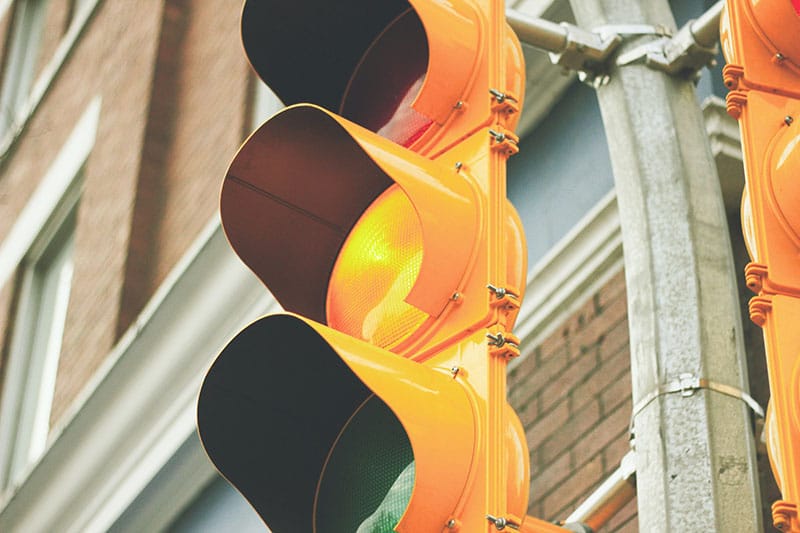 Exercise caution before jumping in to work with an agency by finding out if it's legitimate.
Conclusion
A marketing toolkit for accounting firms consists of a few things: a website, a marketing plan, tools for advertising and client acquisition, such as a blog, and techniques to generate unique ideas for your marketing efforts. You can see this involves a combination of digital marketing for accounting firms: online marketing and content marketing.
Apply knowledge of your target market (i.e., target audience) to your efforts, and you'll be on your way to gaining more business with a focused and strategic approach.
One way our clients are gaining more business is by delegating their day-to-day administrative and compliance tasks to global team members. This enables them to focus on quality, scale and delivering great client advice.
If you'd like the same for your firm, then sign up to receive a Free Accounting Outsourcing Strategy and Plan.