When our accounting firm clients build their capacity with outsourcing, they create room for more projects and clients.
And while many accounting leaders feel comfortable with the sales process once they are talking with a qualified prospect, they could do with a few more prospects to talk with.
That's where lead generation comes in. In this article, we'll explore 25 practical lead generation methods our most successful clients are using to grow their firms.
Online Lead Generation Ideas
1. Unique Value Proposition
With tens of thousands of accounting firms nationally and hundreds of thousands globally, it's no surprise that clients struggle to tell the difference between them.
Creating a unique value proposition is a proven method to differentiate your firm and attract the clients you want.
Here's a good example from Air Accounting, who position themselves as "Australia's food & beverage accounting firm".

2. Landing Pages
Traditional website pages don't work well for lead generation. That's because they're typically not focused on a specific offer.
The solution is landing pages – these are dedicated pages on your website designed to drive a specific goal such as:
Downloading an ebook or report
Responding to an online quiz or diagnostic questionnaire
Booking a consultation
Here's a good landing page example from Capital Q which promotes a free guide for prospective clients: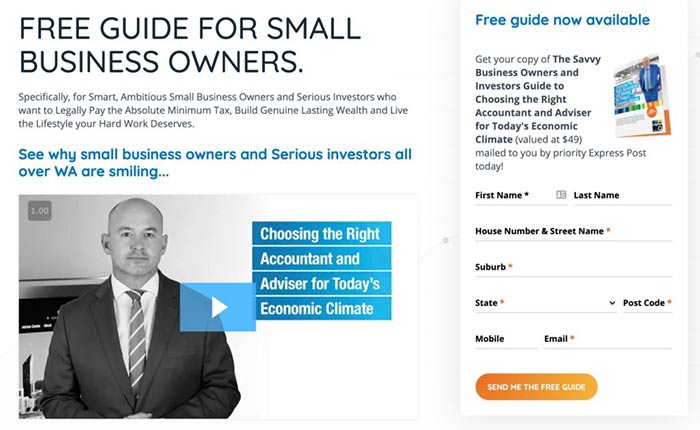 3. Call To Action
"If you don't ask, you don't get" is a common refrain in sales. Yet a lot of websites forget to ask the prospect to take a specific next step.
A simple fix is to scan every page of your website and ensure that wherever possible, you include a relevant Call To Action. Here's a clear, specific example courtesy of Gheen & Co.

4. Compelling Proof Elements
Lead generation is a game of trust. You need to convince the prospect they're better off engaging your firm compared with the alternatives.
That's where proof elements are invaluable. These are specific units of communication you use to prove what you say is true.
BizWhiz Business Solutions does a good job of showcasing some of their awards, which serve to establish their expertise:

Want more ideas? Here's a bonus Proof Elements Infographic where you'll find a total of 42 distinct ways to boost the credibility of your message.
5. Lead Magnets
A lead magnet is a free offer that provides a prospect with value in exchange for their contact information (usually their email address as a minimum).
Here's one of several e-books that Chan & Naylor offers prospective clients to help educate them about different aspects of property investment. Note the clear and compelling title designed to appeal to anyone interested in asset protection: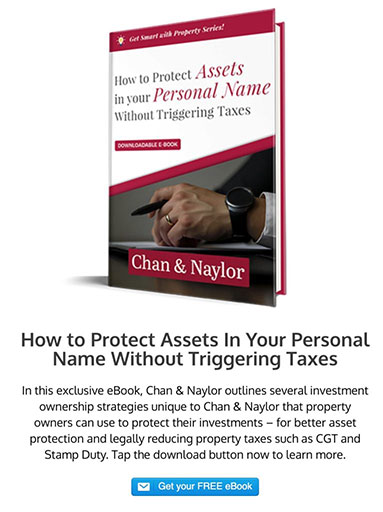 6. Explainer Videos
An Explainer Video is a brief, punchy video that explains your value proposition and ends in a Call To Action. Here's a good example from Altitude Advisory: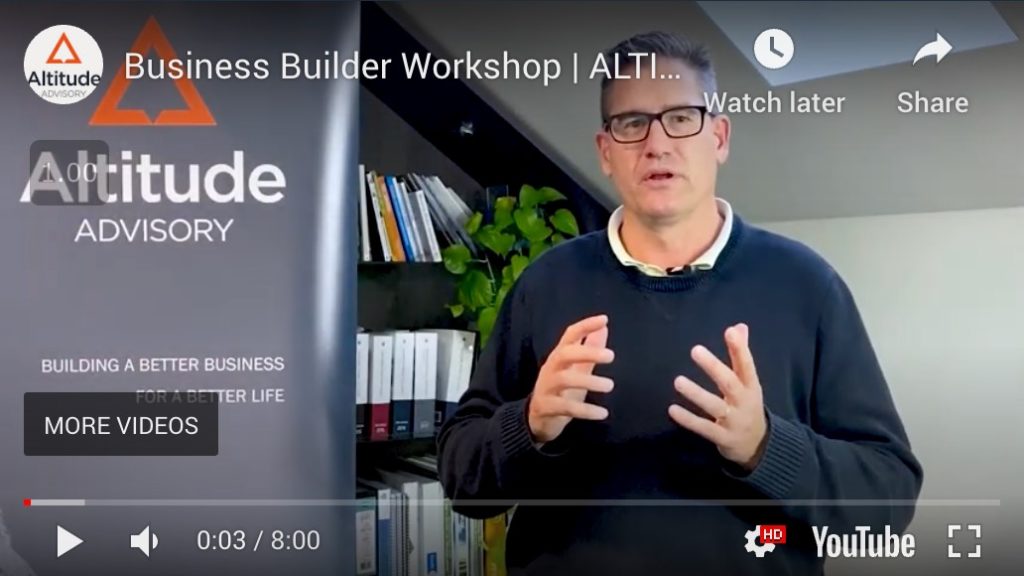 7. Email Automation Sequences
Whereas a Lead magnet is designed to collect a prospect's email address, automation sequences are designed to convert the prospect into a 1-to-1 dialogue with you. You need two things to execute good followup campaigns:
Technology: an autoresponder system, and
Content: email content to be sent periodically to your list
On the technology side, there are many options, including:
Then there is content. The aim of your email nurturing sequence is to provide value to subscribers and show them how taking the next step and engaging in a conversation with you will move them closer to their goals.
8. Website Popups
Popup forms are a potentially intrusive, yet very effective way of placing your key offers in front of a prospect.
This example from Nordens makes a strong offer that is difficult to resist. (It may also attract a lot of less qualified leads, but that problem can be addressed at the lead qualification stage).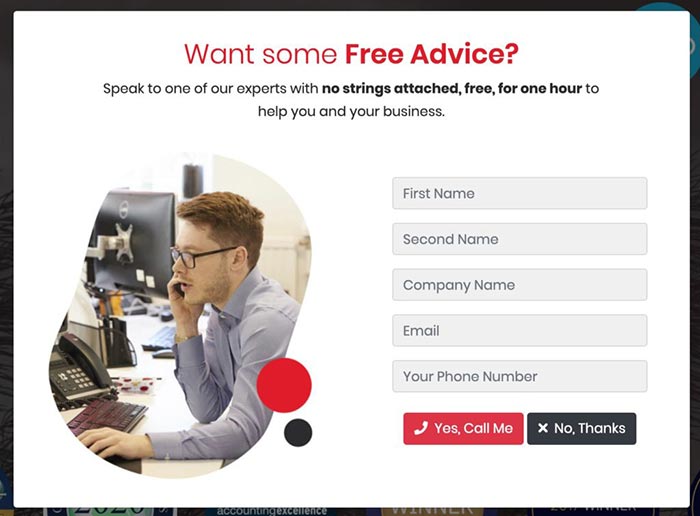 The dual "YES" and "NO" buttons are a nice touch. They force the user to actually consider the offer and make a decision, as opposed to simply closing the box.
9. QUALITY Blog Posts
Blogging and content marketing have been trending in recent years as the business development strategy that every accounting firm "should be" using.
This is one of the core strategies we use at The Outsourced Accountant to attract more readers and engage our audience.
However, for every blogging success story there are probably a dozen disappointed and dejected business owners who tried content marketing without any tangible results.
The secret to blogging success comes down to QUALITY and CONSISTENCY.
Choose relevant topics that your target market can actually benefit from, then create the best content you know how to create on those topics.
10. Content Upgrades
A content upgrade is a piece of premium content that you embed within a blog post in exchange for an email address. Below is a very basic example, and you'll find more content upgrade ideas here.

Website viewers or "eyeballs" are good, but unless the prospect takes further action and enters your marketing funnel, they're unlikely to become your client.
11. Client-Getting About Us Pages
Most accounting firm websites feature some kind of "About Us" page. This is a good start, but it pays to ensure you go beyond the standard, "name, rank and serial number" format.
Kindred Accounting do a great job of showcasing their key people and using real photos and authentic language to talk about the values that underpin the firm.

12. Expert Interviews and Podcasts
If you enjoy talking, tapping into the Podcast revolution may be the perfect medium for you.
One common way to go about this is the interview format (this is what we use on The Outsourced Accountant Podcast).
There is a huge amount of opportunity for professionals who want to tap into this trend. Like many "content" strategies, consistency is important so you build momentum.

13. Facebook Groups
Facebook Group marketing is like spinning up a flywheel. It's a strategy that takes some time and effort to get momentum, but once it is up and running, can prove to be very effective. Focusing on a defined target audience who are interested in creating long term outcomes helps.
For example, if you have a strong focus on a certain industry or topic (e.g. property investment), you can build a community around that topic. If this piques your interest, check out this post on How (And Why) To Start A Facebook Group.
14. Interactive Quizzes
Some studies suggest that creating an interactive experience for prospects is a more enticing lead generation "carrot" than straight information.
One of the ways to deliver this experience is to offer a quiz. For example, a "How Can I Increase My Cashflow?" quiz. Quizzes are difficult to do well, but can be very successful if you get them right. Inspire CA does a good job on their quiz:

15. Social Sharing Buttons
Social sharing buttons make it easy for prospects to share your site. There are many free and paid plugins that do this. One that offers lots of customisation options but is also low cost is Social Warfare.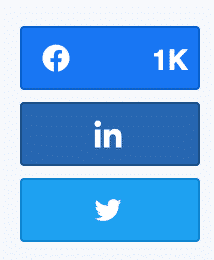 One important point to remember is that in order to get shares, you need to create share-worthy content. That's where other strategies such as blogging, podcasting and content creation can help.
16. Facebook Advertising
You may have noticed that advertising for accounting services on Facebook is becoming increasingly prevalent. This is happening for one simple reason – it works!
But there are also a number of things you have to get right in order for Facebook Advertising to pay off. Here are a few pointers:
Make sure you have a strong Unique Value Proposition, squarely aimed at a defined target market.
Use top of funnel offers such as Lead Magnets to give away value and build trust with the prospect.
Follow up with high-qualify information using autoresponders.
Formulate offers that will motivate prospects to get in touch.
Test, track and optimize.
Facebook ads create the click – it's the job of your funnel to convert that click into a qualified lead.
17. Google Ads
Google Ads were the go-to online advertising method for many years, especially when only a handful of firms were using them.
Google Ads still work, but the competition (and the costs) have gone up considerably. Bidding on search terms such as [business accountant YOUR CITY] may cost upwards of $10 per click.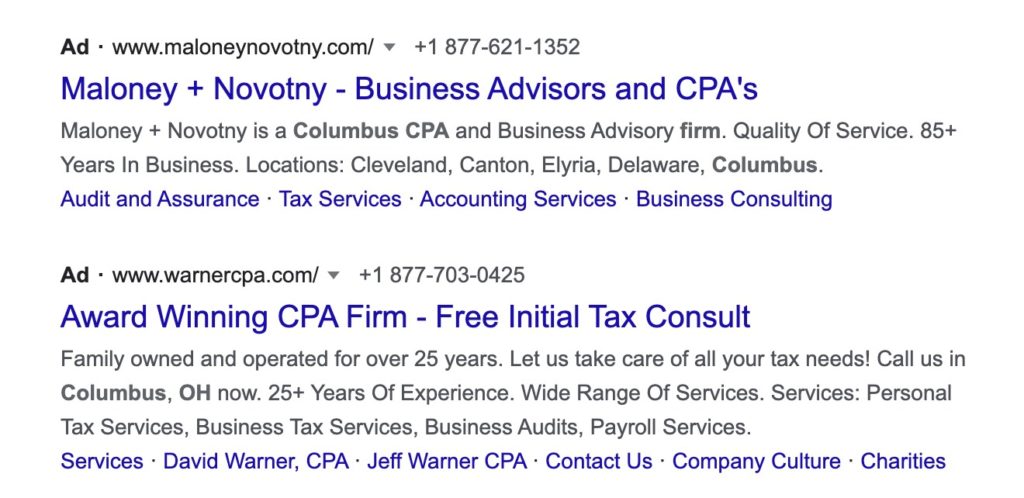 That being said, Google Ads do have the ability to target prospects at the precise moment they're looking for your service. By testing and tracking different creative, targeting and other settings, many firms are doing well with Google Ads.
Our advice is, unless you are a Google Ads expert (hint: you probably aren't), outsource the management and optimisation to an agency or expert who can squeeze more value out of every click.
18. Organic Social Media
Organic social media refers to creating and sharing content on social media without paying for advertising. While this form of marketing tends to receive a lot of exposure in the business press, it can be a "slow burn" proposition to make work.
Tools such as Hootsuite, Buffer and Meet Edgar (to name just three of many) can partially automate the process. However, you'll still need to create engaging content.
Although it is possible to convert social interactions into appointments and client relationships, it's hard to beat the speed and automation of funnels combined with paid traffic.
19. Google Local Search
Google Local Search refers to the "maps listings" that typically appear towards the top of Google search resutls: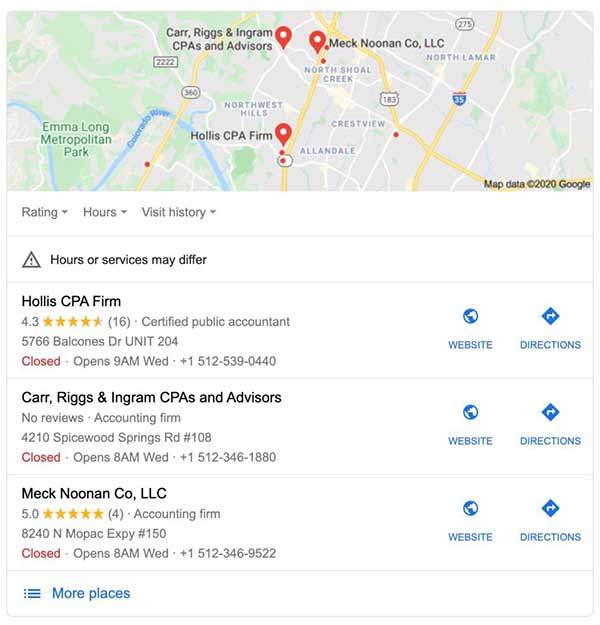 These local listings are effective for attracting clients who are looking for a local provider. There is definitely a "formula" for improving your rankings in the local listings – see this article on Google Places Optimisation for practical tips.
20. Search Engine Optimisation
Search Engine Optimisation is the process of optimizing your website to rank on the "Free" side of Google.
This is a huge topic, but as a starting point, here are some of the SEO fundamentals to be aware of:
Conduct keyword research to help focus your activities around the most viable target search terms.
Use On-Page Optimization techniques to tune your website for your target keywords.
Create content that is very relevant to the keywords you're trying to rank for.
Be patient 🙂
Offline Lead Generation Strategies
21. Print Advertisements
We have seen strategic print advertising be very effective for accounting firms, but the problem is that print magazines are getting harder and harder to find!
As with all media placement, it's important to consider who is reading the publication, and how closely these readers match your target market.
For example, if you target firms in the manufacturing industry, it may make sense to advertise in a popular industry journal. However, it wouldn't be worth spending money on newspaper ads.
Another tip is to focus on two-step lead generation ads (i.e. promote a booklet, guide or other "soft offer") rather than direct enquiry ads. One you generate the lead, your funnel and sales process can take over.
22. Networking Groups
Many accounting firms get reliable referral generation results from networking groups such as BNI.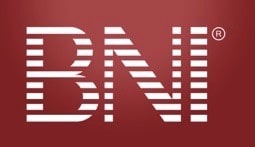 The pro of networking groups is that if you follow the process and participate consistently, you're very likely to see positive results. The con is that it takes time and effort to generate momentum, and these efforts don't scale if you want to dramatically grow your practice.
23. Public Speaking
Public speaking opportunities are a great opportunity to reach more potential clients. During the time of COVID-19, live speaking engagements are more likely to have morphed into online speaking opportunities.
It's not for everyone, but there are a number of formats we've seen work effectively for accounting firms. For example:
Teaming up with a few related businesses and holding a virtual or in-person boardroom briefing.
Speaking at Chambers of Commerce or similar "general business" settings.
Speaking at relevant conferences. E.g. an accountant specializing in serving the manufacturing sector speaking about inventory control at a conference.
Wherever possible, it's useful to capture the contact details of the audience members. Otherwise, you may end up with a very happy and well-informed audience – but very few new clients.
24. Telemarketing
Telemarketing used to be much more prevalent than it is today, but after all this is the Ultimate list of lead generation ideas, so it deserves a mention.
With the right offering, the right script, and a lot of persistence, telemarketing can work. You also need:
A defined target market
Deep knowledge of the problems you can solve in a unique way
An effective sales process for exploring working together
25. Strategic Partnerships
Strategic partnership is a somewhat misunderstood term. This is not just a "you refer me and I'll refer you" arrangement. It is a STRATEGIC relationship designed to add value to everyone involved – the participating businesses and the client.
A good way to start is to think about who your ideal client is, and who else services that ideal client. This will help you generate a list of hand-picked potential partners who may be a good fit (e.g. mortgage brokers, lawyers, financial planners etc.).
The next step is to create deep partnerships with these partners with the aim of generating significant volumes of mutual business.
Conclusion And Next Steps
The aim of this article has been to open you up to the lead generation possibilities in your practice and point you in the right direction.
Remember, you don't have to do everything. Just a handful of lead gen ideas executed consistently can yield impressive results. When you do this well, you can quickly fill available capacity so you can continue to grow if you choose.
If you need help hiring the support staff you execute these strategies (e.g. marketing assistants, client service coordinators or business development associates etc.) please get in touch.
We'll put together a Free Outsourcing Strategy and Plan for you to consider so you can get the extra support you need to grow.