Your ultimate guide to getting started with the accounting outsourcing process.
So you've determined outsourcing some of your work is the best option for the success of your accounting or booking firm's growth strategy, and now you're embarking on the accounting outsourcing process.
This article lays out how to carry out an accounting outsourcing process in just 5 steps.
Kick off the Accounting Outsourcing Process in 5 Easy Steps table of contents
1. Identify your key drivers for outsourcing
There could be one or more things that drive the owner of an accounting or bookkeeping firm to oursource their finance functions. In the past, businesses mainly outsourced accounting services because it was cost effective, but nowadays, improving business performance is a top driver.
Identifying and documenting what these drivers are is important in enabling you to see if outsourcing aligns with your business strategy.
Here are a few common drivers for outsourcing accounting operations to help you start creating your own list:
The need for core competencies and/or specialized services. Outsourcing helps you access skills and expertise your firm doesn't have.
A capacity crunch. If your firm is at capacity and you need more staff, outsourcing allows you to quickly tap into a pool of qualified candidates and reduce the time it would take you to recruit, screen, interview and hire a new employee.
Strategy. Outsourcing supports your business processes by letting you delegate specific tasks to an offshore team. This lets your staff focus on core work while your global team fulfills your general needs. The result is a more streamlined production process.
Turnaround time. Delegating work to a global team helps your firm become more efficient (as a result of having greater capacity), thereby better enabling you to hit deadlines.
2. Select the right outsourcing partner for your firm
A good fit with a service provider is paramount – you'll be forming a strategic partnership with your provider. Just like you want to make sure potential employees you hire are a good fit for your firm, you also want your provider to be a good match for your business.
Selecting the right outsourcing partner for your firm can be done by assessing a few things. These include:
Business goals. Consider the provider's short and long-term business goals to determine if they're the right partner for your business. Are they in line with your goals? Then define your requirements to the provider and set your expectations early on.
Cultural compatibility. Your provider should understand your culture, so they understand your organization and your employees, too. This facilitates communication. When it comes to cultural differences, acknowledge them and exercise sensitivity when handling them.
Communication, technology and infrastructure. Technology is constantly evolving, and it's now easy to exchange information with someone on the other side of the world. Ask your potential service provider about the technology and equipment they have in place to know if they can manage the successful execution of a project. And remember to ask about data security for your balance sheets, financial reporting documents, clients' information and other sensitive data.
Track record and experience. Research potential providers – what's their track record like? Are client testimonials available? Don't hesitate to request information directly from a provider.
One tool you can use to help you assess a potential provider is a Vendor Selection Scorecard Template, where you can score the providers you're considering on various factors, from fees, to terms and conditions, to system performance.
Hopefully this tool and these steps will help you choose a provider with confidence.
"A good outsourcing company should help you decide which parts of your business you need to keep in-house. Beware of a company that tries squeezing core processes out of you."
– Everything You Need to Know About Business Process Outsourcing
3. Choosing the right model of outsourcing
There are several models of outsourcing, catering to different business needs and goals. Four common models are:
Freelance. This is just what it sounds like. You hire a freelancer to complete a job.
Project-style work. In this model, you provide the project specifications and hand them over to your provider, who then manages the entire process according to those specifications.
Business process outsourcing (BPO). BPOs recruit part-time or full-time employees and present suitable candidates to you and you determine who you want to add to your global team. They also provide your global team with the workspace and equipment they need to work.
Build-operate-transfer model. Similar to the BPO model, a provider will provide the employees and their workspace. The difference is, once you're ready to operate on your own, they transfer the entire operation over to you.
So which model is best for you? The one that best meets your business needs.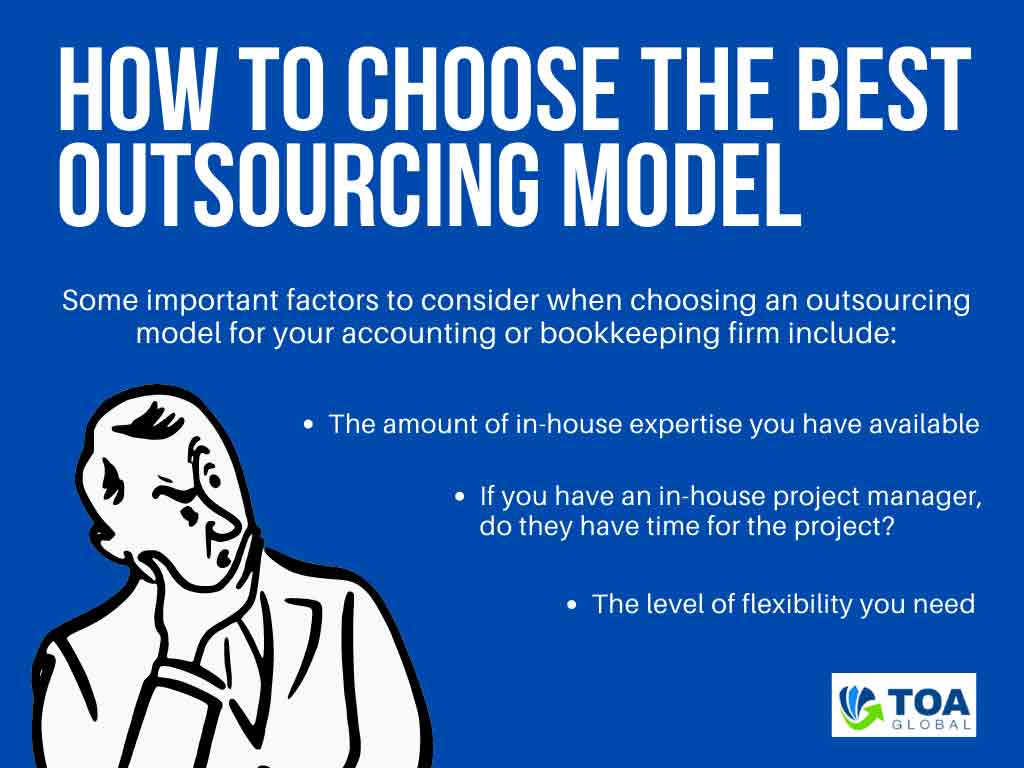 4. Engaging your local team in your outsourcing strategy
You may hesitate telling your local team members you're going to be outsourcing work out of fear they'll flee for the exits with concern about their own job security.
The best way to manage this is be open and communicative with your local team, and to involve them in the accounting outsourcing process. Here's how:
Quell your local staff's fears. Reassure your staff their jobs are safe, but be prepared to lose one or two, no matter how much you reassure them or how much you explain this move is an opportunity to promote them to more strategic jobs with greater responsibility.
Empower your team with your firm's vision. Let your team know how you see the industry in a decade's time. Then outline where your firm currently stands and what's required (outsourcing the daily administrative and compliance tasks) to have the firm you want in 10 years.
Manage change. This is where communication really comes into play. Your team will need your help in understanding what's happening, so:
Be clear about where your team members can go for help and answers
Answer questions promptly, so people feel secure
Remember people react differently to change. Watch, listen and support as necessary
Give your team time to adjust to the change
Involve your team. Ask your team to list which of their tasks can be outsourced. This exercise should provide you with a good idea of what you can turn over to an outsourcing service provider.
"What I hear is that employing offshore is taking jobs away from Australia, and that it's taking jobs away from graduates. I don't see that at all … When we went to offshoring we did it through necessity because we needed to have an accounting team. We couldn't attract anyone in Tenterfield. It has led our teams to work on jobs that they really enjoy, to work closely with clients and talk more with clients."

Kristen Lovett, founder and director of Klas Business + Accounting
5. Preparing your outsourcing implementation plan
Your outsourcing implementation plan is what will help ensure the successful transfer of your work to your provider. It may seem like a complex process, but we've broken it down into 3 steps in this article.
"The BPO implementation plan needs to bring together the provider's process for setting up services with the client's needs for adapting the current organization and processes to the new operating model," an Outsourcing Fundamentals article states.
This involves project specifications – identifying those specifications, what you hope to achieve, and the technologies, tools and services you use. However, think in terms of value creation instead of specific tools. Organize your project's assets, and make them easy to find and access.
Next, think about guidelines. Determine how you plan to handle testing, deployments, the gathering and implementation of feedback, and communication cadences.
Then begin working on the transition with your service provider and show them what you've put together so far. This should help your provider identify any gaps and make recommendations.
Throughout the entire accounting outsourcing process, maintaining a good relationship with your provider is key to success. You may work with a dedicated account manager or client experience manager to ensure your needs and requirements are met.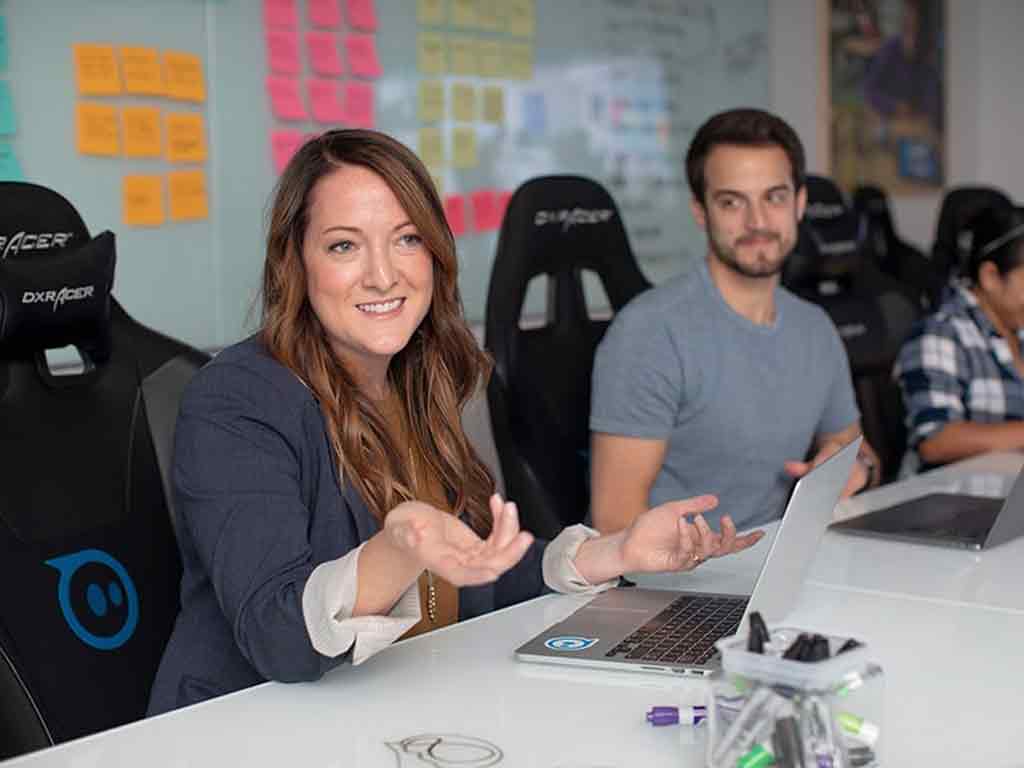 Working with your service provider during the implementation phase will help both of you address any gaps or make modifications to your plan before you "go live."
Conclusion
The accounting outsourcing process can be completed in 5 steps: identifying your key drivers for outsourcing, selecting the right outsourcing partner for your firm, choosing the right model, engaging your local team in your strategy, and preparing your outsourcing implementation plan.
With an accounting outsourcing process underway, you'll begin to reap the benefits of outsourcing, such as more capacity at your firm and time back to work on your business instead of in it.
TOA Global has helped more than 550 accounting and bookkeeping firms increase their capacity, efficiency, and profitability – as well as get time back – by helping them build and manage an offshore team. If you'd like the same results for your firm, then sign up to receive a free Accounting Outsourcing Strategy and Plan.
Then when you're ready for the next step, book a call with one of our outsourcing specialists who can answer your questions and help you explore how outsourcing just might be the solution for you.