In the latest poll data from our webinar Essential Guide To Outsourcing And Cloud Security For Accountants, 43% of the audience were shown to have outsourcing solutions up and running. This represents a big jump compared to the data gathered from the joint webinar with Panalitix, How To Become a Real-Time Accountant and Add Value to Your Firm, held in November 2016 with only 11%. Over 40% of respondents were also thinking about setting up offshoring support or inquiring.
Latest Data Shows A Big Increase In Accounting Firms Engaging In Outsourcing
Nick Sinclair, CEO of The Outsourced Accountant (TOA), with Jamie Beresford, CEO of Practice Protect covered the following topics with over 200 respondents:
The vital case for outsourcing
Expert insights into how leading firms are outsourcing
Tips on managing a global workforce
Identifying the most crucial cloud security risks
How to ensure that you've got your clients' data (and yours) secure
"With the advent of cloud technology and globalisation, we see outsourcing as a viable option now particularly the accounting industry."

Nick Sinclair
Are you outsourcing right now?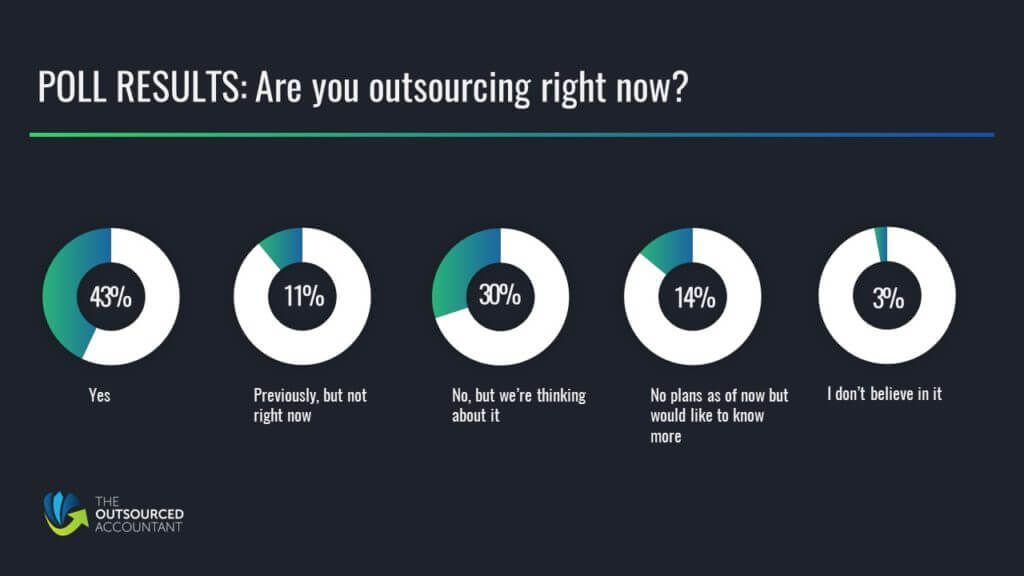 Essential Guide To Outsourcing And Cloud Security For Accountants (May 2017)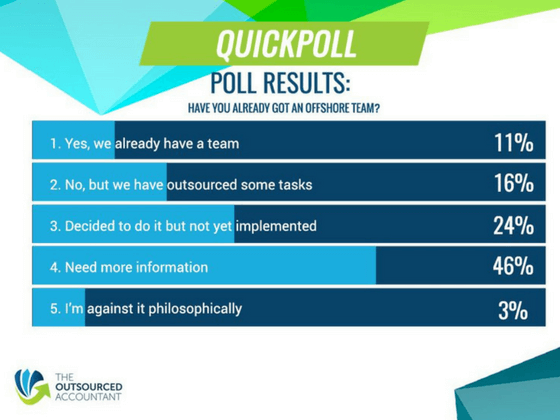 How To Become a Real-Time Accountant and Add Value to Your Firm (November 2016)The large jump in accountants practising outsourcing is certainly a good pulse on the industry. Outsourcing has gained ground and been welcomed in the accounting industry as firms strive to respond to numerous challenges, improve efficiency and deliver more for customers than ever before. Nick Sinclair was quick to note the change in how accounting firms currently look it as an angle to entice applicants for recruitment.
"A large number of firms are advertising to graduates stating — you'll never have to do a tax return. You're coming into the business for an advisory role — with a lot of the compliance work being outsourced to a global team, it provides a great opportunity for graduates to focus on local client facing work."
A good part of the audience has also considered outsourcing with 30% indicating they are not outsourcing right now but are thinking about it. 11% have engaged in outsourcing but not at the moment while 14% are looking into starting their outsourcing journey.
This is all indicative of how much change and firm reviews are happening in the industry. A number of case studies can be viewed here around how outsourcing can be a positive change factor for a firm, improving efficiency and productivity. "Outsourcing is not just about tax and compliance, it's about efficiency and setting a firm up for long-term growth," Nick says. The webinar discusses reasons why outsourcing amidst industry changes is such a practical option to take. From addressing capacity restraints to attracting and keeping talent, from price pressure to labour costs, Nick shared his insights from his own experience on running The Outsourced Accountant in the Philippines.
If you are having capacity restraints, or looking to grow your firm, or just want to know what is possible with outsourcing, we are here to help. Check the two other blog series of this webinar:
Cloud Security Concerns For Accountants, A Top Concern … And Growing!
CEO Shares Insights On Handling Top Concerns With Outsourcing
---