Over 90% of accounting firms are either outsourcing work, have decided to, or are on the hunt for more information on how to get setup. Two experts examine how to build capacity in the firm and how this has led to dramatic shifts in firm productivity.
---
In this expert webinar, hear Nick Sinclair's journey from running an accounting firm to scaling up a business with over 450+ qualified accountants and support staff. This is a must read for anyone looking into outsourcing, or offshoring to understand the biggest concerns and how The Outsourced Accountant can help to overcome these, fast.
The key insights:
Why offshoring has become such a real and viable option for accounting firms
The true value of building an offshore team to grow your firm's capacity
Understanding the necessary requirements for a successful offshoring effort
How to successfully choose the right team members for your offshore team
Real results from successful offshoring stories
A lot of businesses have heard about outsourcing or offshoring, or have actually tried it, but not everyone knows how they can fully maximise the benefits of offshoring. Polling showed that over 90% of the audience had either thought about or have actually engaged in offshoring. The most common reason for deploying this strategy is to improve the performance of their firm while saving on costs and crucially enabling the right firm talent to focus on tasks to improve value for the customer. For Nick, the top three questions at the start of his offshoring journey were:
How can we streamline our service and make it more efficient?
How can we deliver more to our clients for less?
How do I market my business to attract more clients?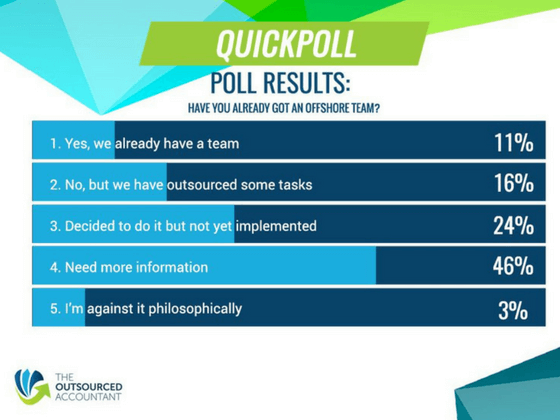 Reasons for outsourcing
Outsourcing is concerned with shifting a task to another party to be completed, which of course could be done domestically or internationally. Services like Fiverr or Upwork are classic examples of platforms that offer outsourcing for tasks. Offshoring differs and refers to setting up a team to get work done in a different country, usually to leverage cost advantage and to gain access to a higher volume of skilled individuals. When done right, offshoring can dramatically increase productivity and create a unique competitive advantage by offshoring certain business processes. It's a long term play as you get the access to a great pool of talent while investing in their ongoing development with your firm, just like any team member. The Outsourced Accountant offers the ability to do this, but in the highly specialised niche of Accounting and Finance, with over 450+ accountants and highly trained support staff working with our clients. Here are some of the reasons why offshoring has become such a viable strategy for helping to scale an accounting firm.  
Cost benefitOffshoring accounting services gives a considerable wage cost advantage. In a research conducted by The Outsourced Accountant, firms in Australia and New Zealand could utilise four people offshore for the cost of one onshore. For the American markets, this equates to approximately three offshore staff to one onshore. With this increase in manpower, capacity and scaling are not that difficult to achieve. It's important to note that the overall impact of offshoring can be to ensure that the right talent is matched to the right tasks. Not only can this increase satisfaction within teams, but also the ability of the firm to produce scalable results and service. In turn, this can improve client trust, referrals and in many examples add fuel to other functions that can help grow the firm, like marketing.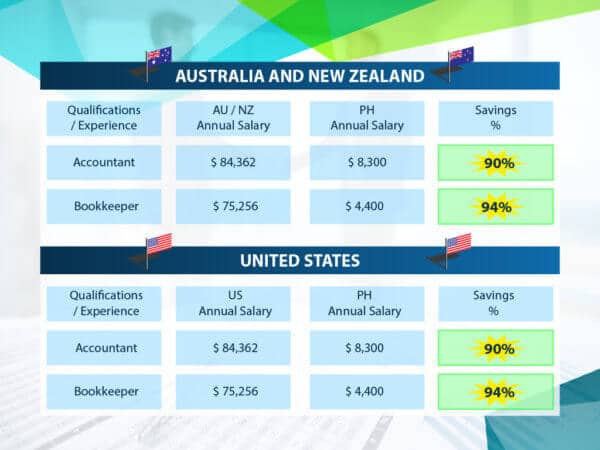 Productivity and service impactWhen Nick started his offshoring journey in December 2013, the company had 8 staff. A month later they added an additional 22 staff and within three months had replicated almost the entire headcount with 38 staff in Australia and 30 in the Philippines. The huge shift in manpower had a dramatic effect within the firm and also for clients: "All the mess got cleaned up, it enabled our team to be freed up. They went looking for more work, being proactive and focusing on outcomes that were much more valuable to the client." The firm then began to improve and expand their client services. No-charge financial analysis was offered to clients plus increased tips and consultations every month — an approach that helped greatly in building trust with clients which ultimately led to generating 5-10 leads a day.
Focus on core competencyOne of the most effective ways to scale your business it to ensure you have great systems in place for process driven work. It's then a matter of matching the offshore talent to deliver this work. This allows a firm to redeploy talent time to activities that will ultimately drive more value for the customer. The identification and mapping out of process-driven tasks will help pinpoint which tasks can be outsourced. While process mapping, standardisation and reengineering can seem like a cost (high involvement in time), it allows the firm to get great clarity on where opportunities to increase productivity truly lie. This, paves the way for more efficiency in your processes. It also allows onshore staff to focus on work that they would like to do more of but weren't able to because they were tied to the time-consuming process-driven tasks.
"When you start offshoring, you often see who is hiding behind a rock… with us, we didn't make anyone redundant… But when you put in place real strict mechanisms to measure an offshore team's (performance), you start to show the inefficiencies you do have in your process in your firm. Overall, this in itself, can be an incredibly open and valuable process to go through."
A long-term investment in peopleIn the case of outsourcing, it can often be perceived that the offshore team are very separate and are there just to 'do a job'. The real successes we have seen are where firms fully open their firm, culture and development to all their employees, no matter the location. As our workforces continue to become more multicultural and cloud technologies improve, the geographical working boundaries become less important. The leading firms we have seen invest heavily in their offshore staff, often visiting frequently or bring them into the local offices. This has a great and positive impact on team culture as well as streamlining cultural norms and expectations. Common feedback about the Philippines teams is how outstanding their English skills are, how highly educated they are, and how strong their work ethic is. Embracing these points to craft a high performing team while tapping into the abundance of highly qualified accountants is long term play but one that has had great upside strategically. The scaling approach gets the firm organised, focused on adding more value — and building more client trust. Once this platform had been formed, it was a matter of upping the marketing and business development, which can also be done through offshoring.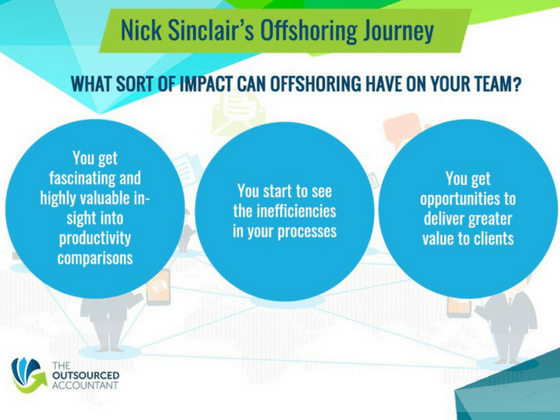 Steps in the outsourcing process for accountants
While it can be a challenge to start offshoring, it's not at as hard as you think to get started. For offshoring to be successful, you need to find a trusted offshoring provider. This is how it works at The Outsourced Accountant:
1. Learn and work with offshoring experts
Work with an expert to help identify where your capacity issues and opportunities are. The Outsourced Accountant has highly qualified, accounting and finance specialists who are experts at offshoring to meet and discuss everything you need to know. No matter what stage you are at with your offshoring journey, whether you are contemplating on having an offshore team, or if you have decided to offshore but need guidance, you can simply book a no obligation meeting with an offshoring expert here. They are a great resource into what other firms have done successfully and can assist in accelerating similar results for you. In addition, the open collaboration with firms who are already offshoring is incredibly valuable. The Outsourced Accountant facilitates many accounting community and peer-to-peer advisor learning opportunities to help get to know each other and offer support (Client Adviser Day). These are a tremendous resource giving firms, who are new to the approach, valuable insights on various aspects of the journey.
2. Identify and remove low-value tasks
A great way to work out what tasks you could outsource is following a three-step method. One of the most powerful outcomes is highlighting all of the work that you don't want to do, that you are doing, that you simply don't need to. If you compare this against your own hourly wage cost and where this time could be better spent, you're already well on your way. Nick's simple approach is this 3-Column identifier:
First column – tasks that you or your staff need to do but would rather not do if given the choice
Second column – tasks that your staff would love to do but cannot because they're busy with tasks in column one
Third column – tasks that you can definitely delegate to somebody else
This approach very clearly shows tasks that you can outsource so you and your staff can focus on tasks that you would like to do more of and which are higher yielding.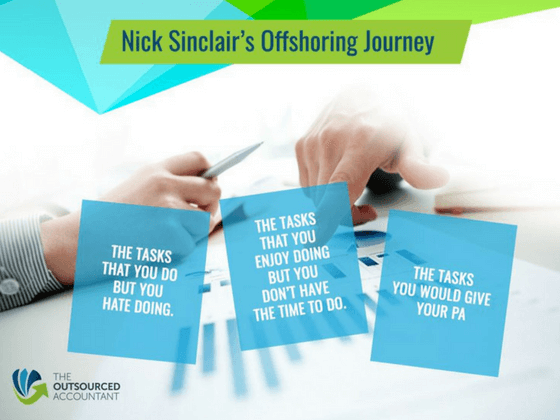 3. Develop a long-term plan and strategy
The Outsourced Accountant has always maintained that offshoring is an investment that requires a stretch of time and effort. Having a global workforce will need a firm to conduct regular coaching and continuous training to upskill the team members. Engagement also plays a big part as this creates a culture within the team. Nick emphasized that,
"It does take time to train … It's a global world, it's a global workforce. You don't have people just working in your current office, you have people now working in your Philippines office. You need to have the time dedicated to doing that."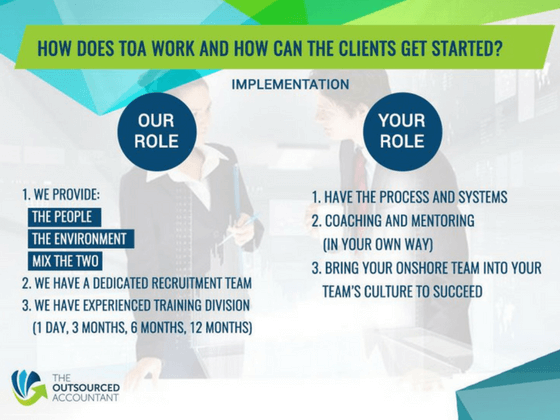 What are the common tasks to outsource for accountants?
The advent of cloud technology and the fact that offshored accounting is becoming more popular and more advanced, have had a huge impact on the types of tasks that can be outsourced. The range and complexity of accounting tasks that can be supported by The Outsourced Accountant are growing rapidly. In the past only simple low value tasks were outsourced, but this practice has evolved for the following reasons:
With the availability of a highly educated workforce, more complex tasks have started to be offshored. These include roles that focus superannuation, SMSF and paraplanning.
With additional staff taking on these roles, it builds the firm's capacity significantly contributing to the growth of the business.
At The Outsourced Accountant, many clients have teams of more than 10 members working in their own branded suites.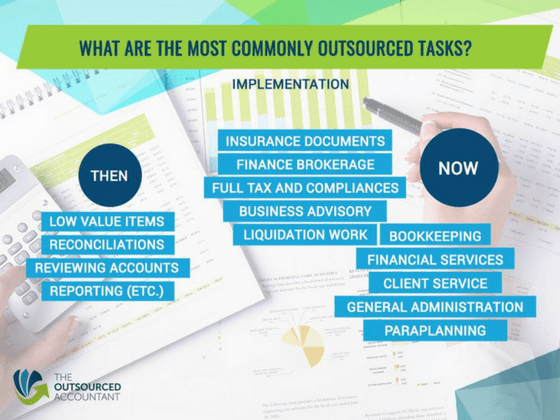 Concerns/risks associated with outsourcing
Financial and accounting firms who are making the strategic decision to offshore their accounting services may face a variety of concerns from internal issues, such as what to tell the local staff and clients, or 'perceived' risks about the quality of work offshore. From the poll you can see a summary of the biggest concerns: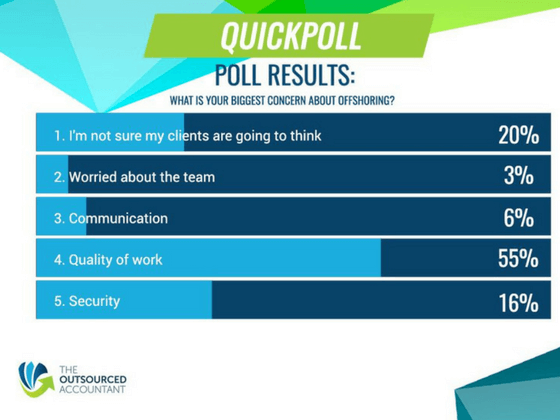 Nick Sinclair is quick to point out facts and feedback from many clients who have been offshoring accounting work for many years.
Quality of workWhilst a big concern is about the quality of work (with 55%), Nick states that the only difference of hiring an offshore team is that they're in a developing country. That doesn't mean they have a low-value education. In fact, the education system in the Philippines is very advanced especially in Accounting where it produces the second highest number of graduates annually. With the TOA Team members alone, "Every single one of the 400 has a degree. Over 40% of them have a Masters (degree), 50% of them are CPAs. They're extremely educated. A lot of them also have been CFOs for 5,000 FTE companies." The Philippines has the second highest volume of graduates in tertiary education producing about 8,000 CPAs every year. For those looking to outsource accounting roles, the difference in skills that a firm should be made aware of is that Filipino accountants need to understand local taxation laws (i.e. Australian, New Zealand, and US tax laws). This is well covered at The Outsourced Accountant where extensive and local training is provided by Australian CPA qualified trainers.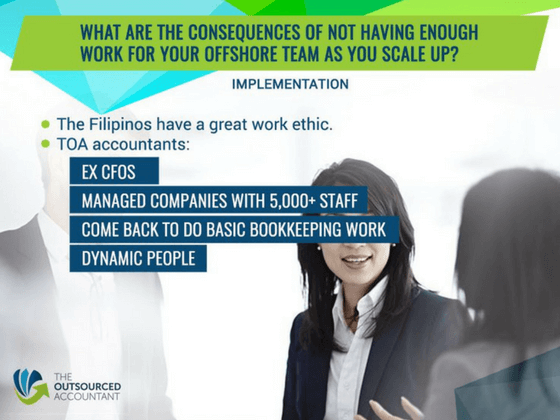 CommunicationIn the Philippines, English is the primary language of communication and instruction. Aside from Singapore, Philippines is the only South-east Asian country to mandate fully bilingual education. English is part of a daily life at The Outsourced Accountant. According to Education First's English Proficiency Index, the Philippines is ranked #3 out of 20 countries in Asia with a score of 60.59, and ranked #15 out of 80 countries and regions worldwide. This goes to show that the concern about communication is almost non-relevant. Many clients are surprised by how well the Filipino teams communicate and find little to zero reasons to be concerned at all.
Client PerceptionMany companies worry about the need to tell clients that their work is being offshored. Nick and his team had a very successful offshore accounting team up and running, in six months. The clients were simply blown away by the change in service levels. Various points can be considered to get clients onboard with offshoring their requirements. This includes increased productivity, efficiency, cost-effectiveness etc. The key aspect here is to ensure that regulations are complied with but also to demonstrate value through the approach. It's also important to ensure that the process and people are at a point where they're delivering quality results, consistently.
Team's PerceptionWhen employees see jobs being outsourced, they might think their jobs are next. But, outsourcing is not always about reducing onshore headcount. It's helping them become more skilled as they can now move away from process-driven tasks and focus on creating solutions for clients.
SecuritySince cloud technology is a big part of the offshoring industry, online security is best handled with industry's best practices. The Outsourced Accountant has invested heavily in IT security. TOA has partnered with a leading IT security firm encompassing a wide range of tasks from seamless IT infrastructure to data security.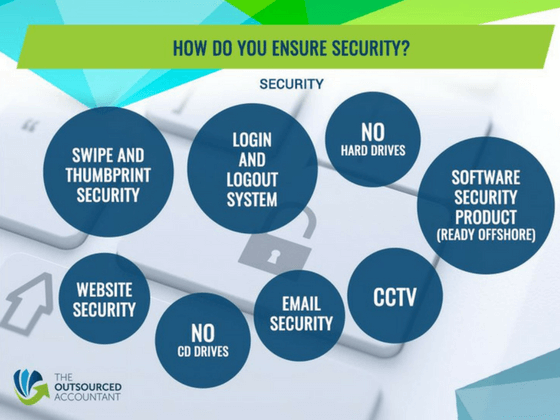 Expert advice is always readily available at The Outsourced Accountant. If you are looking for offshoring experts for your accounting and finance services, we are ready to talk. We can make your offshoring journey easy for you.
---
Headquartered with an executive team in Australia, we provide dedicated team members as a high-quality offshore team. Growing rapidly with over a thousand qualified accountants and support staff in the Philippines we deliver all the recruitment, onboarding, facilities and amazing culture to support your workflow.