The importance of keeping employees engaged cannot be overstated. A 2017 survey conducted by Gallup showed that 51% of the U.S. workforce is disengaged. The consequences are costly. Disengaged employees are said to cost organisations as much as $550 billion each year. In Australia, the impact of disengagement costs $33 billion.
Disengaged employees can negatively impact your company. You can't afford to lose people especially since finding the right talent is difficult during these times. It's important to note that 75% of employee turnover is preventable. This is where employee engagement comes in.
Build your team's confidence
Confident employees will always deliver. In the case of your offshore team, take note that Filipinos have the tendency to be shy compared to other cultures. While they're highly capable, there are times when their innate shyness can get in the way of being awesome and delivering the wow factor. Help build their confidence by doing the following:
Boost their confidence with words of encouragement. Pep talks and telling them how great they are are simple ways to boost their confidence.
Let their voices be heard. Nothing can boost someone's confidence more than the feeling of being recognised. Listen to what your team has to say during meetings. Ask for their opinion about certain issues. Encourage feedback and solicit their advice or suggestions.
Be a good mentor. Coach your team. Pass on learnings and help them get better at their respective roles.
Let them shine. Everyone is great at something, so allow your team to excel and be recognised at things they're great at.
Recognise exemplary work and offer rewards. Great work deserves recognition so make sure that team members who perform exceptionally are commended. This can motivate them to do better and inspire others to step up their game.
Offer opportunities for career development
Employees want to know they have the opportunity to advance in their career. Nothing motivates them more than the knowledge that their efforts will pay off in the future. Bear in mind that even engaged employees are still open to the idea of switching jobs. A Gallup survey showed that 37% of engaged employees are on the lookout for opportunities.
Have clear communication rhythms
Effective communication plays an essential role in keeping everyone engaged. This will improve productivity and guarantee team members have a good working relationship. Here are some tips on establishing clear communication rhythms:
Gather up every morning for a daily huddle. This is the time where the team talks about the previous day's achievements and the day's current goals. This is also important for identifying areas for improvements and any problem areas or 'stucks' that are hindering the team's progress.
Encourage feedback. Feedback is critical in monitoring your progress as a team. Accurate, honest feedback will help identify things that can be improved.
Talk to your team regularly. Constant communication can boost team morale which leads to more confidence. That's because talking to your team on a regular basis will put everyone at ease.
Involve them in strategic meetings. Inclusivity is an important factor in engaging employees. When you include them in meetings, you are sending the message that their opinions matter and that they are valued in the company.
Humanise the relationship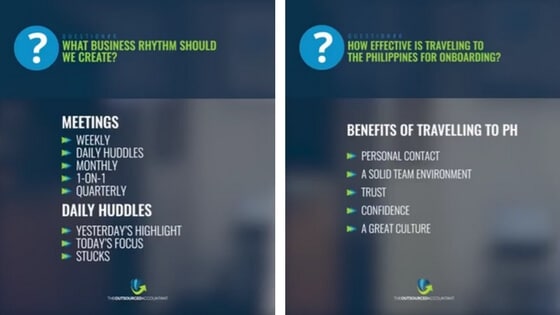 Immersing your team to your culture is important in keeping them engaged. This is why we highly encourage clients to fly out their team members to their local office. At the same time, clients should also schedule visits to the Philippines to spend time with their offshore team.
You can try various employee engagement tools and strategies to ensure your team stays committed, passionate and motivated. But regardless of the tactics you use, having a genuine sense of concern for your employees may still be the most effective way to promote employee engagement.
---
The Outsourced Accountant helps accounting firms from all over the world grow their capacity, margins and profits through global outsourcing. Contact us to find out more about how we can help your firm.