An article about improving accounting firm people and profitability may seem out of place in the middle of a crisis. But nothing gets better if we stand still.
And it turns out that analyzing the lessons of previous downturns – coupled with capitalizing on the abundance of accounting talent currently in the market – may plant the seeds for a winning strategy on the other side of the crisis.
Shift In Supply and Demand For Talent [Video]
Here's a short video from TOA Global Chairman Nick Sinclair on the dynamics we're seeing in the accounting talent market today:
Book a call to discuss your talent strategy
The Optimal Strategy In A Downturn: Harvard Business Review Study
A comprehensive study published in Harvard Business Review analysed the strategies of 4,700 public companies in the 3 years before, during and after recessions.
While not accounting-firm specific, the study does shed some light on how companies balanced "Prevention" (defensive) and "Promotion" (offensive) moves, and the outcomes they subsequently experienced.
Here's a summary of results (with emphasis added):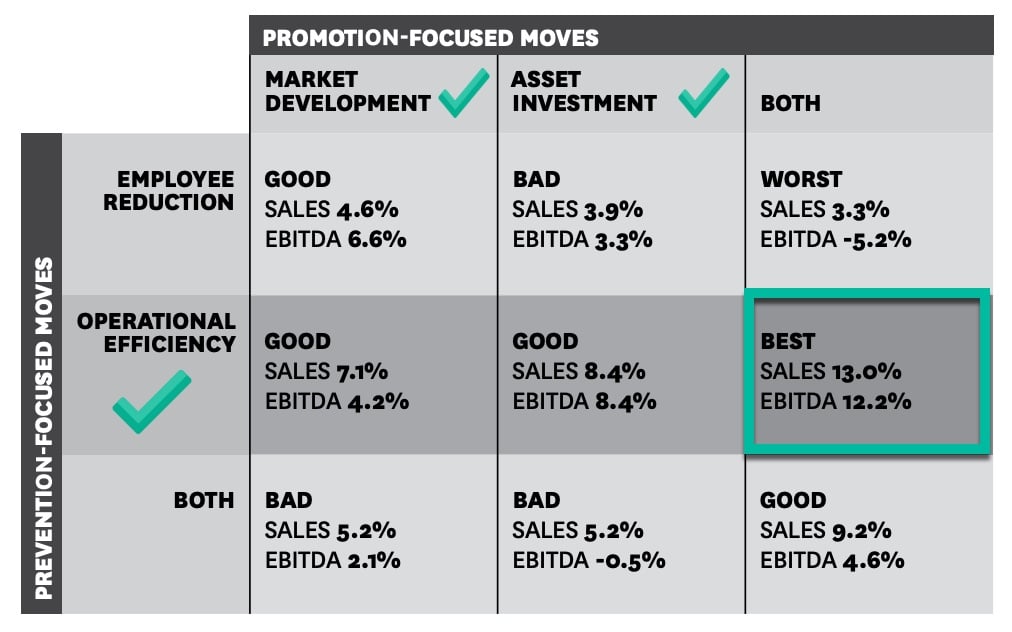 The study evaluated two broad categories of Prevention-focused Moves:
Employee Reduction: reducing head count
Operational Efficiency: improving systems and processes
And two categories of Promotion-focused Moves:
Market Development: developing new client bases, products and opportunities
Asset investment: acquiring and investing in more assets
What the study found is that a combination of Operational Efficiency, Market Development and Asset Investment achieved the best three-year compound annual growth rate in both sales and EBITDA growth.
The potential lessons for accounting firms include:
An Accounting-Industry Specific Perspective: How Firms Navigated The 2009 Financial Crisis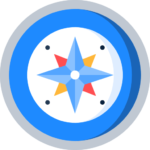 Whereas the accounting industry is regarded as being somewhat recession-proof, the downturn of the late noughties did flatten fee growth across all firm sizes.
Of the 54 firms surveyed in the study, half laid off staff in 2009 and half did not. However it was the largest firms (over $10M+ in fees) who were most likely to retrench staff.
As a result, firms of all sizes found that for the first time in 15 years, there was a bountiful supply of experienced staff available for hire.
(This mirrors the current situation. For many years, unemployment in the accounting industry has been <3%. Some of the most common problems we tend to hear from firms include the difficulty finding qualified staff, and the risk of losing staff they have due to a poor work-life balance.)
Going back to the original study from 2010:
75% of firms with billings of <$5M found a meaningful increase in staff quality.
68% of firms in the $5-10M range found an increase in quality.
60% of all firms hired newly-available staff, even in the depths of the recession
Tactics and strategies to weather the storm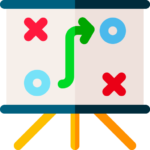 Marc Rosenberg, CPA and a management consultant to CPA firms, has written about the specific tactics mentioned by one firm who had succeeded during the recession:
Be sure to reward strong employees
More soft skills training (#7 in our Accounting Industry Trends)
Bill poor realization clients more aggressively
More partner accountability
Increased communications to staff, who are concerned about the firm
Sticking with core strengths
Watching non-billable time of partners and staff
Focusing more on comparing actual billable time to budget, by individual
Getting the work to the right level
Using seasonal accountants more than ever before
Many of these strategies seem right on point for today, although we would include adding an offshore team component to the mix as well, naturally!
Conclusion & Next Steps
While many accountants are flat out helping clients navigate the current conditions, history has shown that firms that plan for the post-downturn future will perform well.
Successful strategies include:
getting lean
improving processes
snapping up high-quality talent
building targeted capacity
and not taking your eyes off opportunity and growth
At TOA Global, we are as busy as ever if not busier. We've also picked up incredible talent in the Philippines from other employers who have shed trained accounting staff.
Want to stay on the front foot? Then contact us to discuss your People Strategy (onshore or offshore) and get a tailored Outsourcing Strategy and Plan to help your firm not only survive but thrive in the years ahead.