Outsourcing: Driving Efficiency and Growth which hauled business leaders in 45 economies in the world to understand their business views in outsourcing.
The Grant Thornton International Business Report (IBR) is the world's leading mid-market business survey, interviewing approximately 3,300 senior executives every quarter in listed and privately-held businesses all over the world. According to the research, 40% of the companies globally are considering to outsource one or more business processes. Though there are variations in the survey results for the said economies, all of them refer to efficiency (57%) and cost reduction (55%) as the major drivers in their decision to outsource back-office services. Business leaders in high-cost labour countries, such as North America and Europe, are more likely to cite these drivers. In North America, 70% mention reducing cost and 69% improving efficiencies; in Europe, the proportions are 63% and 67% respectively.
Business leaders in developing economies also see outsourcing as a way of accessing expertise. This reduces the need to micromanage employees as these professionals are already knowledgeable in their respective areas. The study further reveals that 46% of BRIC (acronym of major emerging national economies: Brazil, Russia, India, China) businesses mention better access to expertise as an outsourcing driver, compared with 39% in the G7 (bloc of industrialized democracies—France, Germany, Italy, the United Kingdom, Japan, the United States, and Canada). 45% of BRIC economies cite mitigating risk through using specialists, versus 35% across the G7.
Having an outsourcing partner helps you identify and reduce uncertainties as you share accountability with them. It exposes you to less instability because outsourcing companies generally have mitigation strategies in place for certain risk considerations. While larger businesses are more focused on cost reduction and improved efficiencies (both 58%), smaller businesses are more likely to be looking to use outsourcing providers to ensure business continuity (48%),free up staff to focus on core strategy (44%), and reduce headcount (37%).
Outsourcing allows you to focus on revenue-generating activities by having your service provider do the process-driven tasks for you. It also improves your company's capability to scale up or down, especially whenever there are seasonal or cyclical demands. The other major factor is the ability to cut outsourced staff more easily than (in-house) employees. Here is the breakdown of the survey results: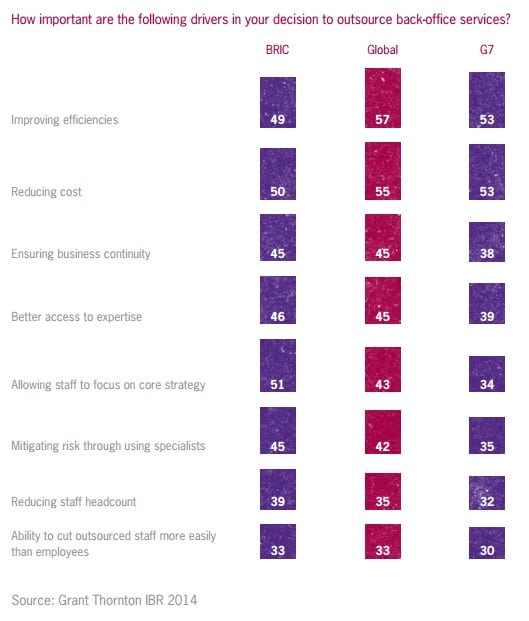 With these key drivers, it is evident that more and more businesses are now seeking to improve their performance through outsourcing.
The Outsourced Accountant helps accounting firms from all over the world grow their capacity, margins and profits through global outsourcing. Contact us to find out more about how we can help your firm.
REFERENCES:
http://www.consultancy.uk/news/191/grant-thornton-key-reasons-for-outsourcing-processes