Discover what you need to know, do and ask during your quest for top accounting talent.
There's a lot at stake when it comes to hiring new staff. In accounting recruiting, a great new hire can help your firm grow and flourish, whereas a not-so-great hire can literally cost you and affect your employees' morale. And as you may have experienced, finding and attracting qualified candidates has also been a challenge in the accounting industry.
This article is here to help you attract and hire top accounting talent, so you can go through the accounting recruiting process smoothly and hire your new staff member with confidence.
The definitive guide to recruiting accounting staff table of contents
1. The impact of a bad hire
The impact of hiring the wrong person can be significant for your firm. Business Review Australia reported that a bad hire can cost a company as much as two and a half times the salary of an employee. The U.S. Department of Labor indicated that hiring the wrong employee will cost at least 30 per cent of the staff member's first annual earnings. The CEO of Zappos, Tony Hsieh, had even estimated that the cost of hiring the wrong employees has cost the company more than $100 million.
A bad hire can also impact your team's morale, sparking a domino effect as their productivity begins to suffer, too. Employees who lack motivation can influence others, even resulting in financial losses. One study by Gallup tracked employee engagement and found disengaged staff can cost their company $2,246 in earnings each year.
All it takes is one unmotivated, disengaged individual to slack off (or perform poorly) to pull many others down. The rest of the team will be forced to compensate by picking up the slack, potentially leading to resentment and you even losing good staff who'll have thrown in the towel.
You clearly don't want to lose great employees just because of a wrong call in hiring a certain individual.
"I'd rather interview 50 people and not hire anyone than hire the wrong person."
Jeff Bezos, founder of Amazon
2. Finding the right accounting talent
Obviously, by making the right hires you can avoid costly mistakes and a negative impact on your staff's morale and productivity.
Not rushing your hiring process is key. Yes, the battle for talent is fierce, yet we suggest recruiting at a pace you're comfortable with – one that allows you to really get to know your candidates so you can determine if they are the right long-term fit for your firm.
Spend as much time as you need choosing candidates to interview and save yourself potential stress down the road. Take the time to make the right decision the first time. Move as quickly as comfortably possible, prepare well, schedule time and keep an open mind. Now let's do this.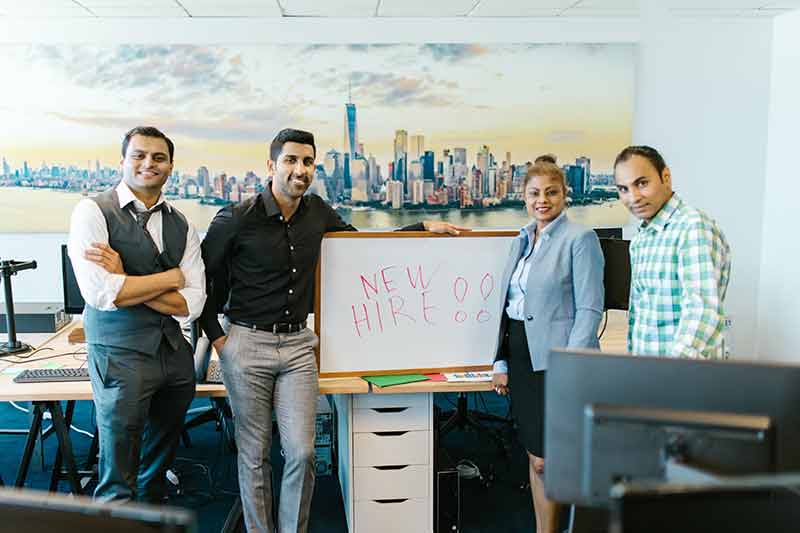 Taking the time to carefully screen and interview candidates will help ensure the right person joins your team.
3. Why accounting staffing is so hard and how to fix it
Before you can fix something, it helps to know why or how it broken in the first place. In the accounting industry, two things are driving the talent shortage. The first thing is technology. The second thing is more discerning job seekers.
Advances in technology that have impacted the accounting industry, such as cloud accounting and automation, has led firms to seek accounting professionals who not only know accounting, but who understand the technology, know how to work with it, and leverage it for the business.
As for candidates themselves, their job search includes more than a good paycheque and health benefits. Flexibility, education, a sense of purpose, and experience and exposure will greatly increase the chance of a candidate joining an organization, a Manpower survey suggests.
By offering candidates these benefits, such as continuing education courses, a chance to lead a project, or a flexible working arrangement, you may well increase the likelihood of attracting top talent that will work for you for years to come.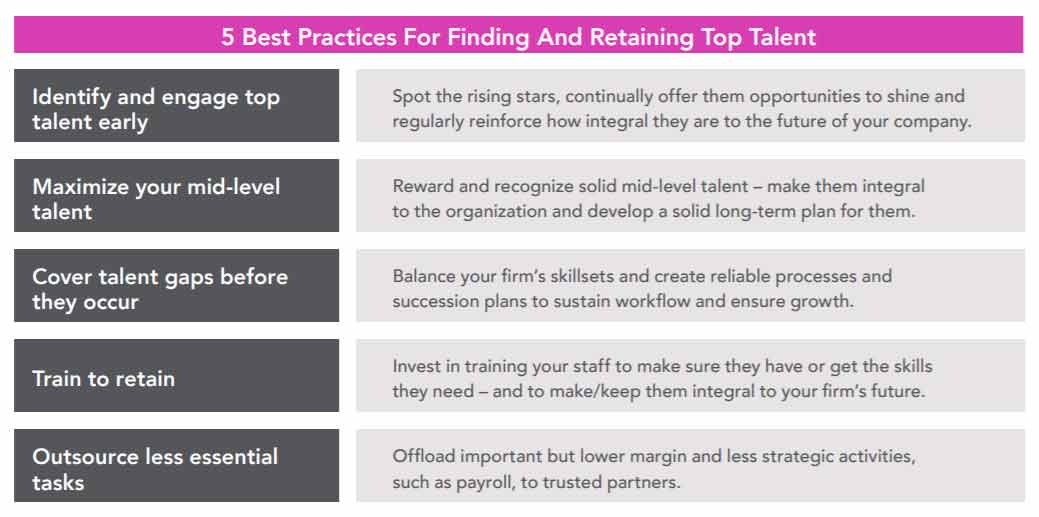 Source: Hidden Talent: Finding Solutions to Today's CPA Talent Shortage
4. Using an accounting temp agency for your staffing needs
If you reach the point where you're at capacity and really need to hire someone now or risk burn out because it's been such a challenge to find a qualified candidate, you may be tempted to turn to an accounting temp agency. Like many things, however, it has pros and cons.
A temp agency's recruiting team will pre-screen accounting and finance candidates, saves you time recruiting, and can involve a relatively quick process. The flip side is that you want to work with a temp agency that is right for you and "interviewing" a few before making your choice by asking questions such as "How do you recruit candidates?" "How do you screen candidates?" "How long does it take to find a candidate and fill a role?" and "What is the cost of using your services?" can take time.
If you do go with a hire from a temp agency, be crystal clear in his or her employment contract as to what their status is – casual, full time or part time, temporary for six months – to avoid any potential legal hassles.
And treat a temporary employee with the same respect as you do your permanent staff so he or she feels part of the team. This behaviour on your part also reinforces to your permanent staff that a dismissive attitude toward temporary staff isn't acceptable.
One alternative to using an accounting temp agency is to use an outsourced accounting service provider. Going this route offers many of the benefits as using a temp agency, if not more.
"Candidates will remember how they were treated during the interview process,
and this will impact your reputation, your company's reputation,
and your ability to hire top talent in the future."
Denise Wilkerson, HIRE with FIRE: The Relationship-Driven Interview and Hiring Method
5. Key questions to ask candidates interviewing for an accounting job
You've shortlisted candidates to interview. Congratulations! Now really tap into what they have to offer and determine if they're the right fit by asking the following key questions:
Describe one of the biggest challenges you have faced in your accounting career and how you overcame it.
Give me an example of where you improved an accounting procedure or process to be more efficient.
Errors can be detrimental to accounting. How do you check your own work for accuracy?
How do you stay on top of current accounting legislation?
Have you ever faced an ethical dilemma at work, and if so, how did you handle it?
What trends will have the biggest impact on accounting in the future?
Is it better to be late and perfect OR good and on time?
These questions don't just probe candidates' skills and experience, they're designed to give you more insight into their personality, ethics, judgment, initiative and commitment to the industry, as well as whether or not the candidate will be a good cultural fit for your firm.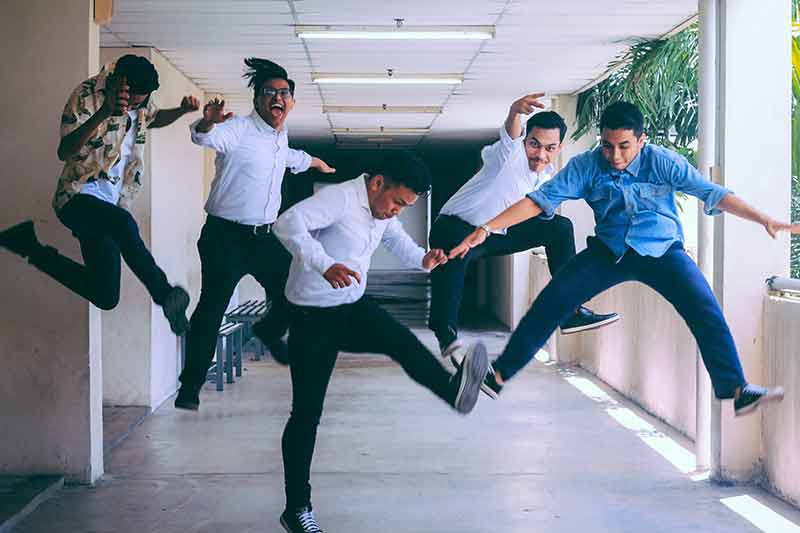 Many candidates can have the skills and experience you're seeking, but fewer of them will suit your company culture.
6. 4 accounting interview assessment tests to consider
In essence, accounting interview assessment tests tell you what accounting job candidates know and don't know. They'll reveal more about candidates' technical aptitude, how they strategize, solve problems, and their ability to measure, process and communicate financial information.
Four accounting interview assessment tests you may want to consider for job candidates are:
An aptitude test, to assess how much a candidate can actually do accounting work
An emotional intelligence test, to obtain a sense of how well a candidate will work with and relate to clients and colleagues
A case study, to gain insight into how a candidate processes information and the quality of his or her work
A specific assignment, for senior-level job candidates, to draw out and assess planning, leadership, communication, problem-solving and strategic thinking skills
Allow enough time to administer and review the tests and consider the role you're filling regarding which test (or tests) to give a candidate. The results, combined with the answers to their interview questions and reference checks, should provide you with the information you need to make a confident hiring decision.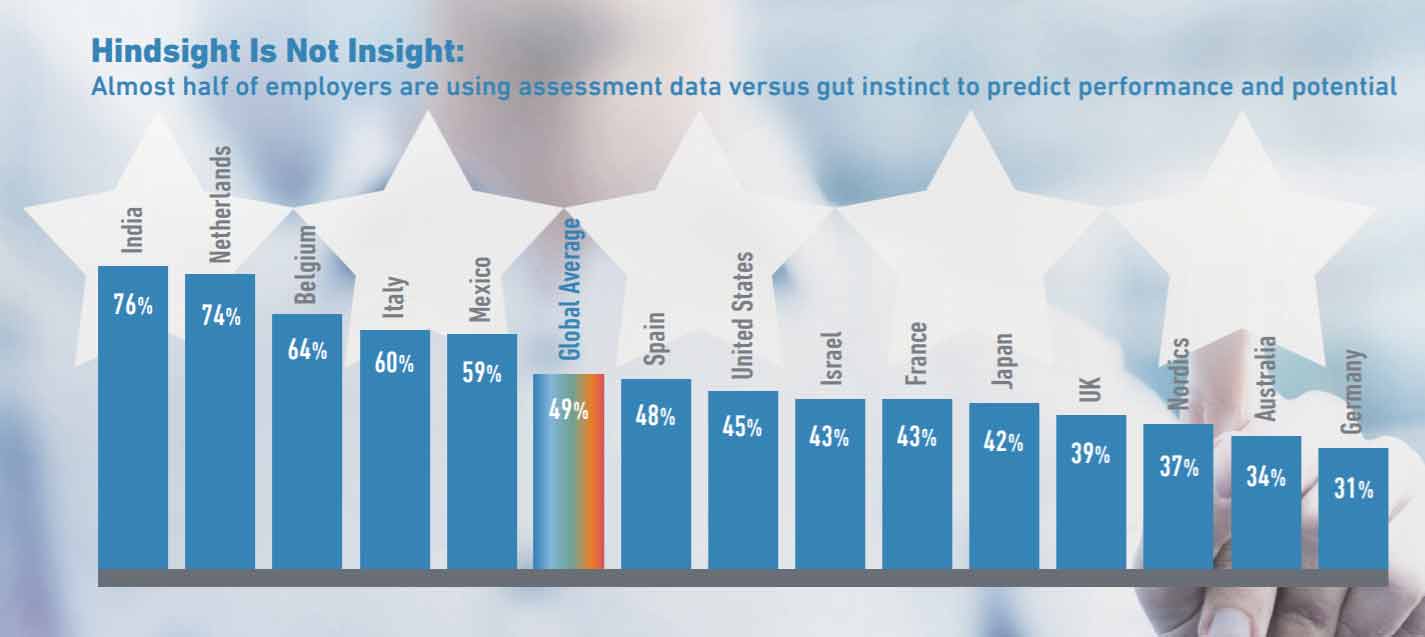 Source: Closing the Skills Gap: What Workers Want
Conclusion
Attracting and hiring qualified professionals involves several factors: overcoming the challenge of finding qualified staff, deciding whether or not to use an accounting temp agency, determining just what questions to ask candidates in interviews, and what assessment tests you should ask them to complete.
By providing you with information on those factors, we hope this guide will help you make the right hiring decisions to take your business to the next level.
If you'd like even more information on how outsourced accounting can solve your staffing challenges, then sign up to receive a Free Accounting Outsourcing Strategy and Plan.