In today's globalized business landscape, offshoring has emerged as a game-changing strategy for companies looking to solve the number one issue facing accounting firms today: capacity. Such firms are also taking the lead in streamlining their operations, reducing costs, and achieving scalable growth.
When it comes to offshoring accounting work, one country stands out as a top choice — the Philippines. With its exceptional accounting talent pool, strong English proficiency, and supportive business environment, offshoring accounting work to the Philippines offers numerous benefits.

In this blog, we will delve into why the Philippines is an ideal destination for offshoring accounting work compared to more traditional accounting outsourcing locations like India. In addition, we will outline the fundamental distinctions between offshoring and outsourcing, looking at which supports your needs best.
Seamless Integration of Talent: Offshoring versus Outsourcing
One of the key differentiators between offshoring and outsourcing is the level of integration of the offshore team with your organization. Offshoring involves hiring dedicated full-time team members who become an extension of your global team. In the Philippines, offshored accountants work exclusively for your organization, ensuring seamless integration into your existing workflows and internal processes. This level of assimilation fosters far greater collaboration, enhances communication, and promotes a sense of shared ownership, leading to better coordination and efficiency.
On the other hand, outsourcing accounting work entails hiring talent that may work on a project-by-project or as-needed basis. As outsourced team members often work with other entities as well, this arrangement often results in less integration and can potentially create challenges in communication, alignment, and overall team synergy. Accounting outsourcing to countries such as India refers to what is traditionally known as BPO (Business Process Outsourcing) services.
Exceptional Talent Pool
The Philippines boasts a vast pool of highly skilled accounting professionals. The country's education system strongly emphasizes accounting and financial education, producing many graduates. Compared to the U.S. where "the labor shortage seems to get worse every year," observed Marc Rosenberg (CPA, founder of The Rosenberg Survey) universities in the Philippines have graduated an increasing number of accountants since 2013. 
Graduates of Business Administration, Accountancy, and Related Programs in the Philippines 
With the profession reaching its centenary in March this year, by offshoring accounting work to the Philippines, businesses gain access to a talent pool that possesses a deep understanding of accounting principles.

"The Philippines may have one of the largest numbers of qualified professional accountants among Asian countries," wrote Joel Tan-Torres, a former chairman of the Professional Regulatory Board of Accountancy.
With such available and highly skilled global talent, accounting firms can overcome capacity constraints caused by the shrinking talent pipeline, increased demand for accounting services and skills, mounting pressure on current staff and the exodus of professionals reaching retirement age.
For a closer look at how firms can increase capacity, you can download our Accounting Talent Insights Report here.
Reduced Costs
Hiring offshore can offer significant cost savings compared to onshore in the U.S. The difference primarily stems from variances in labor rates and the overall cost of living. Labor rates in the Philippines are generally lower, resulting in savings of around 70%.
In the U.S., a generalist accountant may earn $50,000 to $55,000 per year, with offshore generalist accountants in the Philippines typically earning $7,500 to $12,000 over the same period, still more than the same talent working locally in the Philippines. When hiring onshore, businesses must also consider additional costs such as payroll taxes, benefits, and overhead expenses which are typically taken care of by an offshoring partner in such regions like the Philippines.

The IMA's 2021 Global Salary Survey further notes that Filipino salaries are by far some of the most cost-effective.
Median Salary by Country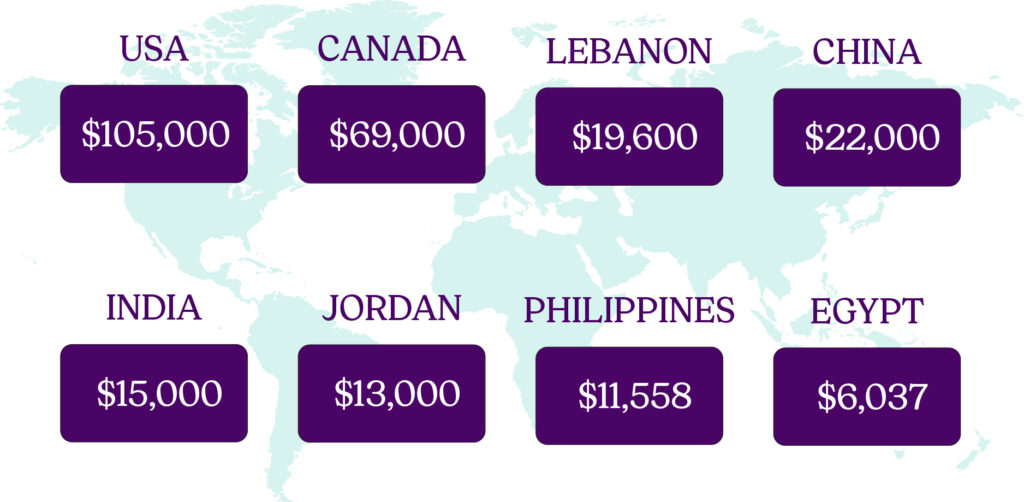 English Proficiency
Language plays a crucial role in offshoring, as effective communication is vital for collaboration between onshore and offshore teams. The Philippines has long been recognized among the top English-speaking countries globally, with a large population fluent in English. This linguistic advantage eliminates language barriers and allows for clear and concise global team communication.
While accounting outsourcing locations like India also have a significant English-speaking population, this region takes 52nd spot compared to the Philippines at 22.
Supportive Business Environment
The Philippines has established itself as a global hub for offshoring, including accounting services. The government recognizes the economic benefits of the sector, and this support is evident in various incentives and infrastructure development initiatives aimed at enhancing the industry. Additionally, the government has implemented policies to ensure data security, intellectual property protection, and compliance with international regulations as written in the Data Privacy Act of 2012, giving businesses peace of mind when offshoring their accounting work in the Philippines.
Read more: Top Accounting Outsourcing Destination Countries Compared.
For the Philippines to stay competitive as an offshoring destination, business and government leaders support developing workers' skills.

Today, the Philippines is the largest global provider of voice-based business process outsourcing services," Rafaelita Aldaba wrote in 2019. She serves as the undersecretary for competitiveness and innovation at the Philippines Department of Trade and Industry and has advocated for fiscal incentives for firms that invest in skills development.

It is important for the country to upgrade from low-end to high-end and shift to value-driven and complex services, given the new age of global offshoring services, emerging technology, new media, and vertical expansion and development.
To enable this shift to higher-value services (including business analytics, consulting, market intelligence, and legal services), business organizations and government policymakers are working toward:

High-speed internet connectivity

Keeping power costs reasonable

Greater ease of doing business

Updating education to weave in emerging technology

Better enforcement of intellectual property law
Next Steps
Complementing your current talent strategy with offshoring in the Philippines offers accounting firms a winning strategy for growth, combining seamless integration of talent, a robust talent pool, exceptional English proficiency, and a supportive business environment. Not only this, but accounting firms can tap into a dedicated team that becomes an integral part of their global operations, resulting in improved collaboration, streamlined processes, and increased productivity.
"Having people we can delegate things to and can train up is the biggest benefit of offshoring so far," said Amanda Owens, firm administrator at Badger CPA in Texas.  
 
"We know that if someone in the U.S. team is on holiday or vacation, we have someone in the Philippines who can step in and help. Having two cultures, two countries—it's helpful to have that back-up.
 
We chose TOA Global because it is an established company with all the policies and procedures already set up, and we knew that we could trust an established company that already had a footprint in the Philippines. We knew that our team members would be well taken care of and that they would be trained, paid well, and appreciated throughout the organization."
If you need a dedicated offshore accountant who understands the U.S. accounting industry, TOA Global provides experienced accountants in the Philippines trained in U.S. standards who are job-ready and available to start immediately.
Forget the time and hassle of recruitment, we've done all the hard work for you. With TOA Global, you can enjoy the following benefits:

Dedicated employees working in your time zone

A team trained by a U.S. CPA

Accelerated speed to competency in U.S. accounting practices, with 260+ hours of training

Immediate availability

Data Privacy and Security

Talent with 2+ years of work experience

Pro-Connect and QuickBooks certified team members
Want to learn more about hiring specialized global talent or offshoring? Check out our solution here.
---
More about TOA Global
TOA Global has helped more than 1,000 international firms grow on their own terms by adding elite global accounting talent to their teams. With over 10 years of exclusive service to the accounting industry, more than 3,600 accountants and bookkeepers in the Philippines have found fulfilling careers.
For firms that want to stay updated on the latest developments in talent acquisition, people management, and training for your accounting firm, check out our newsletter. We regularly explore these and other offshoring and accounting industry trends.